Hit by jumbo menace, villagers threaten stir
Tribune News Service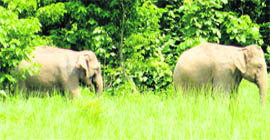 Haridwar, February 9
The Forest Department has come under fire from farmers, local people and various organisations for its failure to control rampaging herds the elephants that have created a scare in villages for the past few months.
At several villages, up to 50 per cent crop has been damaged by jumbos.
Villages of Jagjitpur, Missirpur, Katarpur, Jio Pata, Ajeetpur, Panjanhedi and other nearby areas are almost frequented by elephants daily and residents fear that if the situation continues, then they might lose their only mean of earning.
The Congress has also come out in support of the affected villagers and demanded compensation to the farmers for the loss of their crops and damage to their property due to jumbo intrusion in residential areas.
Uttarakhand Congress Committee general secretary Santosh Chauhan lashed out at the Forest Department for being a mute spectator to elephant intrusion in villages of Haridwar district, which had severely affected the lives of people.
"While Forest Department officials are having a negligent attitude to the problem, villagers are risking their lives by being on vigil the whole night in this cold. Moreover, they are not well equipped to handle herds of elephants," said Chauhan.
While the Uttarakhand Kranti Manch has warned the government and the district administration of a mass protest if the affected people's demands were not met soon, JP Pandey, state head of the manch, said apart from villages situated near Ganga ghats, jumbos were seen intruding in urban areas such as BHEL and Tibdi Colony.
Forest officials had failed to control elephant movement in these areas also.
Villagers complained that despite apprising forest officials of their woes, no concrete step had been taken to check the menace. "We are left in the middle as from both sides (violent elephants and unconcerned forest officials) we are getting blows. Apart from seeing our crops getting damaged in front of our eyes by elephants, no other option is available to us," said a perturbed Vijay Kumar Saini, a farmer of Jiopata village, one of the worst affected villages due to elephant intrusion.
DFO R Pathak said the department was trying its level best to control the elephant intrusion. Efforts were being made to check jumbos' movement on the routes they use to reach these villages.
Meanwhile, representatives of affected villagers have written a letter to Chief Conservator of Forest and the Forest Minister demanding an instant intervention.