Mussoorie gets highest allocation under rainfed area project
Jotirmay Thapliyal
Tribune News Service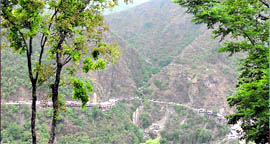 The Ringali Gad watershed that is to be brought under a rainfed area project. A Tribune photograph
Dehradun, February 1
The National Rainfed Area Authority's pilot study project has come Uttarakhand's way. The Mussoorie Forest Division is among the chosen few forest areas in the country that have been identified for the authority's pilot study management of fringe forests and adjoining non-forest lands for ecological, water, food, livelihood security and sustainability.
The Union Ministry of Agriculture's Rainfed Area Authority has identified six forest project sites in the country which, apart from Uttarakhand's Mussoorie Forest Division, includes Sabarkantha Forest Division in Gujarat, Aurangabad Forest Division in Maharashtra, Vellore Forest Division in Tamil Nadu, Kanchanpur Forest Division in Tripura and Raipur East Forest Division in Chhattisgarh.
The project amount for the Mussoorie Forest Division, pegged at Rs 250 lakh, is the highest among the divisions.
The project that encompasses Ringali Gad micro-watershed falls under Kempty Range and is a micro-watershed of Aglar sub-watershed which is at a distance of 13 km from Mussoorie on the Mussoorie-Yamunotri National Highway.
Ringali Gad micro-watershed covers 1,231 hectares, which includes 559 hectares of reserved forests, 403 hectares of agriculture land, 251 hectares of civil and 17 hectares of van panchayats.
The altitude of the project area ranges from 900 m to 2,000 m with more than 80 per cent of the area falling in slope range of 10 to 30 per cent while the rest 20 per cent is in more than 30 per cent slope range.
Six villages fall under this micro-watershed namely Banglow ki Kandi, Sainji, Chamiya, Jethu ki Kandi, Banogi and Bhatoli villages. These villages are approachable from Kempty Yamunotri motor road.
BP Gupta, Conservator of Forests, Yamuna Circle, under whose jurisdiction falls the Mussoorie Forest Division, expressed happiness over the development.
"It is certainly a matter of honour for the Uttarakhand Forest Department to bag a Rainfed Area Authority's project that too getting selected for among six project sites in the country," said BP Gupta.
While 30 per cent of the amount for the project will be released at the signing of the agreement in the very first year of study, the second instalment of 40 per cent will be provided in second year after the utilisation of the earlier instalment.
The balance 30 per cent of the fund will be released in third year in two instalments of 20 per cent and 10 per cent.
Project activities will encompass entry-point activities, watershed activities, forest development works and livelihood interventions.
These include baseline survey, formation of joint forest management committees, construction of contour trenches, bench terracing, vegetative check dams, plantation of indigenous grasses and also eco-tourism and bird-watching activities.
Artificial insemination, vaccination, hybrid cattle and honeybee-keeping are also part of the project activities.