Students hold exhibition on eco issues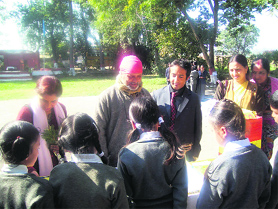 Dehradun, January 23
Dehradun Hills Academy in association with iCARE conducted an exhibition, along with a seminar, so as to exhibit the works created by students on various conservation-related issues in the school here today. Padam Shri recipient Dr Anil P Joshi, founder of Himalayan Environmental Studies and Conservation Organisation, was the chief guest on the occasion.
Dr Anil P Joshi of the Himalayan Environmental Studies and Conservation Organisation interacts with students of Dehradun Hills Academy near Dehradun on Saturday. A Tribune photograph

Home Guards fill in for cops out on Kumbh duty
Dehradun, January 23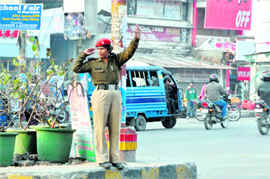 With about 25 per cent of police force from each district of Uttarakhand deployed for security at the Maha Kumbh in Haridwar, the Police Department is certainly feeling the shortage of staff. The department is short of investigation officers as most of them have been sent to the holy city. The cases under investigation will now take two to three months more to solve in their absence. In addition, police presence has also decreased in society.
A Home Guard on traffic duty in Dehradun. A Tribune photograph
40 institutes participate in 'Junction MBA'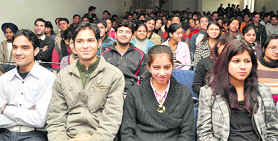 Dehradun, January 23
For the third consecutive year Career Launcher organised "Junction MBA", a mega B-School fair, here today. About 40 top management institutes from all over India participated in the fair. The objective of organising the fair was to bring all these institutes under one roof.
Participants at the "Junction MBA" fair in Dehradun on Saturday. A Tribune photograph
Panchayat Raj Yuva Kaliyan Games
Doon, Haridwar eves in hockey final
Dehradun, January 23
Dehradun and Haridwar will clash in the hockey final of the Panchayat Raj Yuva Kaliyan Games under way at MKP College here.
Rohit fashions Doon Tigers' win
Roorkee, January 23
A quick fire knock of 81 runs off 40 balls by Rohit helped Doon Tigers drub LB Shastri Stadium, Delhi, by 31 runs in yet another breathtaking encounter of the 8th All-India Cricket Tournament for the United Cup being played at Navyuvak Cricket Academy here today.
9-wkt win for Abhimanyu Academy
Dehradun, January 23 Abhimanyu Cricket Academy defeated New Indian Star by nine wickets at the 58th District Cricket League here today.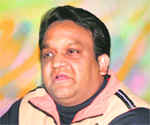 Two new courses at FCI Institute of Management
Dehradun, January 23
For a bright future of students, the FCI Institute of Management has come out with two new courses. Starting with just four students, the FCI today is one of the leading names in the field of management
Anshoo Saxena, Principal, FCI, addresses mediapersons in Dehradun on Saturday. A Tribune photograph

26 babus leave meeting midway
Nainital, January 23
A minister in the state government yesterday got to know about the nonchalant attitude of the officialdom towards work. At a meeting held at Haldwani, where he was at the helm of affairs, Minister of State for Education Gobind Singh Bisht was annoyed to discover that 26 officials vanished from the meeting midway after marking their presence.
Gallantry award to Dobhal

Uttarakhand Police Chief Subhash Joshi today announced to give a gallantry award to Circle Officer Parmender Dobhal, who showed exemplary gallantry, courage and commitment in bringing down Puran Singh Rana, an ad hoc teachers' leader, from atop a Doordarshan relay tower despite being partially burnt. DGP Joshi visited Dobhal, who is admitted to a private hospital in the city.
U'khand shuttlers leave for national meet
Dehradun, January 23
The Uttarakhand badminton team today left for Pune to participate in the Sub-Junior National Ranking Tournament.