Doon ideal destination for BPOs
Sandeep Rana
Tribune News Service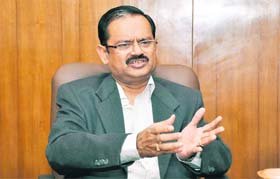 "In the coming years, 50 per cent BPOs will have their operations in Dehradun. Besides the city being a hub of educated youth, it has several other advantages, including there is lesser transportation cost here than that in big cities like Delhi.
— Parveen Kumar, CEO, Sapanco
Dehradun, January 18
The cost factor and business advantages, which have made business process outsourcing (BPO) giants, known for their international processes, to adopt domestic processes are now gradually shifting from big cities to small cities and Dehradun is a favourite destination.
Cities like Dehradun, Bhopal, Indore, Mysore, Siliguri, Aurangabad, Jamshedpur, Ludhiana, Jalandhar and Mohali are among those stations which are considered by the industry as natural BPO products.
"In the coming years, 50 per cent of BPOs will have their operations in Dehradun," said Chief Executive Officer (CEO) of Sapanco Parveen Kumar, which has about seven BPOs in different countries, including the UK, Singapore and Qatar (Doha). Spanco, that started its operations in September in Dehradun, formally inaugurated its BPO unit here today.
Spanco has the capacity of over 3,000 production seats and can offer jobs to over 7,500 persons. This BPO unit has started with 250 seats in the state capital and expects to grow to about 1,000 within the next 12 months.
The CEO said the cost of getting place, manpower and the cost of power had brought their BPO like others to Dehradun. He added that he was of the view of getting BPOs to people and not people to BPOs.
"In Delhi, Gurgaon and Mumbai, the cost of power is very high and youngsters there wouldn't even give much importance to Rs 10,000-12,000 salary, while here even lesser salary would be considered as 'wow'. People in these big cities come from far-off states, then why not have BPOs where they are with several benefits?" Parveen said.
Shedding light on the attrition rate in BPOs, which was very high in the metropolitan cities, he added: "If there are 1,000 executives, then 10-12 per cent attrition rate is bound to be witnessed and this puts an organisation in a bad shape, as the training cost is quite high. Attrition doesn't stand as a problem in cities like Dehradun".
Parveen hailed Dehradun as one of the ideal cities for BPO culture. Besides the serene city being the hub of educated youth, it has several other advantages, including there is lesser transportation cost here than that in big cities like Delhi.
"First, a city like Delhi is very big and it takes hours to reach the office unlike Dehradun where an executive can come within a few minutes due to lesser traffic here," said Parveen.
"This is happening the world over. Like in the UK, the BPOs got closed down in London and got shifted to Glasgow due to the cost factor. Similarly, in the US, BPOs shifted operations from Chicago to Phoenix".
He said likewise in India, giants like Converges, IBM, HTMT and Tech Mahindra have taken up the domestic processes and also gradually coming up to small cities.
Dehradun has several small domestic call centres and handful of international as well. "We have started our operations with domestic processes and would later come up with the international processes as well," said the CEO.