Drinking among girls on PU campus triggers concern
Chandigarh, February 10
A girl residing in hostel No. 6 on the Panjab University campus, who was reportedly under the influence of alcohol, was taken to the Government Multi-Speciality Hospital, Sector 16, in an ambulance last night after she returned to the hostel, vomiting badly, around 10 pm.


Admn efforts help revive dying Sukhna: Report
Forest dept built 193 check dams to keep silt at bay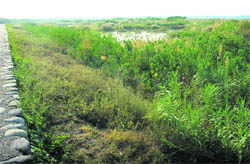 Chandigarh, February 10
The Chandigarh administration has done a Chewang Norphel. What India's 'glacier man' did for the one lakh population of Leh, the forest department of the UT Administration has done for over 10 lakh city residents.



A water body that forms part of the catchment area of Sukhna Lake in Chandigarh. Tribune photo: Manoj Mahajan
F&CC turns down budget
Mayor directs officials to present a revised budget with a 25 per cent increase in comparison to last year's budget on February 15
Chandigarh, February 10
Members of the municipal corporation's finance and contracts committee (F&CC) decided against approving the budget of Rs 516.40 crore tabled at a meeting due to reduction in plan budget for the next financial year here today.
Meeting to review industrial policy today
Chandigarh, February 10
UT Administrator Shivraj Patil has summoned UT Adviser, Home Secretary, Finance Secretary and the director of industries tomorrow for a meeting to review the industrial policy of the Union Territory, sources said here today.
Chill persists as sun plays hide-and-seek
Chandigarh, February 10
Sun continued to play hide-and-seek today, even as chill continued to prevail in the city and its adjoining areas.
AIR launches Gyan Vani
Chandigarh, February 10
Gyan Vani, an educational broadcast channel of the All-India Radio, Chandigarh, was inaugurated on its premises here today.
Australian company to redesign Mohali
Mohali, February 10
In order to give a facelift to Mohali, an Australian multinational town planning company has been asked to revamp the design of the town.
Tenders of admn to go online from March 31
Chandigarh, February 10
Come March 31 and all tender forms for projects worth Rs 10 lakh and above pertaining to various departments of the UT administration will be available on the official website. The decision, which was taken a few days back in one of the meetings chaired by the finance secretary-cum-secretary information technology, comes in the wake of increasing monopoly of contractors in departments, including the housing board, municipal corporation and the engineering department. After April 30, accepting the hardcopy of tender forms in the office by any officer will be counted as corrupt practice.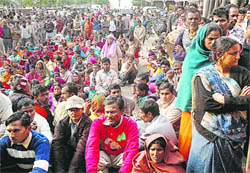 Mad rush at CHB camps
Chandigarh, February 10
Camps are being organised by the Chandigarh Housing Board in Sector 51 under its rehabilitation scheme for allotting tenements to people. Under this scheme, houses are to be allotted in Sectors 51 and 56.


Residents of colonies wait for allotment letters during a camp organised by the CHB at Sector 51, Chandigarh, on Wednesday. Tribune photo: Parvesh Chauhan
Row over orphaned boy takes communal tone
Chandigarh, February 10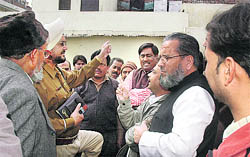 Heated arguments took place today between members of two communities residing in the Ramdarbar area here over the custody of an 8-year-old orphaned boy whose father Kamludeen, a beggar, died on February 7.



A police official pacifies the two sides over the custody of an orphaned boy in Chandigarh on Wednesday. Tribune photo: Parvesh Chauhan
'Need to popularise cycling in city'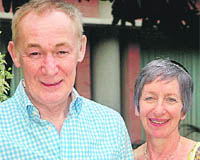 Chandigarh, February 10
Laying cycle tracks across the city by spending crores of rupees would not fulfil the Chandigarh Administration's aim of managing the slow-moving traffic in the city till cycling was popularised among residents. This was stated by Lord Mayor, Councillor Mike Cookson of Newcastle upon Tyne stated this while taking to The Tribune during his visit to the city today.
Lord Mayor Mike Cookson and his wife Lady Mayor Dorrie Cookson. Tribune photo: Parvesh Chauhan
Western Command shooters win laurels
Chandigarh, February 10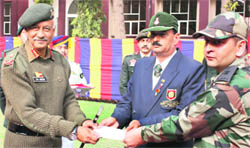 The Western Command shooting team won five medals at the National Combat Forces Shooting Championship held in Mhow. The team members were honoured by the General Officer Commanding-in-Chief, Lt Gen SR Ghosh at Command Headquarters, Chandimandir, here today.
The GOC-in-C, Western Command, Lt Gen Shankar Ranjan Ghosh, felicitates a shooter in Chandigarh on Wednesday. A Tribune photograph
Ambala div suffers losses owing to fog
Chandigarh, February 10
The Northern Railway, Ambala division, has suffered heavy losses due to cancellation or running late of a number of trains owing to fog and biting cold last month.
Quiz, debate mark tech fest at GCG-11
Chandigarh, February 10
More than 200 students from 20 colleges of the region participated in "Tech Zeal 10" organised by the department of computer applications, Government College for Girls, Sector 11, here today.
Stem cell technology can heal injuries, say scientists
Chandigarh, February 10
"The stem-cell technology and genetic engineering is capable of healing injured parts of the body, treating impairments and even completely replacing them due to regenerative merits," claimed scientists at the 13th Panjab Science Congress, which concluded yesterday at Panjab University. "The stem-cell technology is becoming popular day by day. There are two types of stem-cell technologies, one is embryonic stem-cell research technology and the other is adult stem-cell research technology," said Prof RC Sobti.
Thanksgiving week
Mohali, February 10
The Saupin's Community Service Organisation of Saupin's School, Mohali, celebrated the ongoing "Thanksgiving Week" with fervour. Students decided to make cards and give them to people.


Shivalik school disaffiliation
After CBSE, admn follows suit
Chandigarh, February 10
After losing its affiliation from the CBSE, Shivalik Public School is in for another jolt with the UT administration deciding against providing recognition to the school.
Education dept demands fee details of pvt schools
Chandigarh, February 10
Following what has now become a ritual, the UT education department has demanded fee details of various private schools to tackle speculated fee hike and existent exorbitant nursery registration fee in various schools.
Teachers' Recruitment
UT in review mode
Chandigarh, February 10
With the final results of recently held UT teachers' recruitment having yet again hit a controversy after the cash-for-job scam, the administration has got into a review mode to ensure all is well.
Non-teaching staff demand release of pay scales
Chandigarh, February 10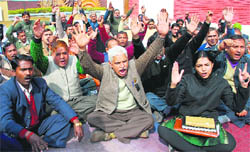 More than 150 non-teaching employees from all aided colleges of Chandigarh participated in the rally held at DAV College, Sector 10, here today.




Non-teaching employees of aided colleges protest seeking the release of revised pay scales in Chandigarh on Wednesday. Tribune photo: Nitin Mittal
Contests to increase patriotic quotient of students
Chandigarh, February 10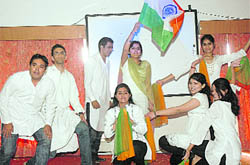 Spirit India, students' volunteer group of GGDSD College, Sector 32, working under the aegis of an NGO, "Aavahan", celebrated their third anniversary on the college premises today.




Volunteers of Spirit India perform on their third anniversary celebrations in Chandigarh on Wednesday. Tribune photo: Parvesh Chauhan
Rang Utsav at music dept
Chandigarh, February 10
The department of music, Panjab University, celebrated Basant Raga and Rang Utsav in the Evening Studies Auditorium here today. Prof Surinder Sharma was the chief guest and Dr SM Kant, director youth welfare department, was the guest of honour.
Install CCTV cameras: UT Home Secretary
Chandigarh, February 10
UT Home Secretary Ram Niwas at a meeting today has asked all educational institutions in the city, including schools and colleges, to install CCTV cameras within coming three months.