Rajasthan reverts to old quota system
Gujjars back in OBC category
Jaipur, February 10
Following the Rajasthan High Court order upholding the 50 per cent ceiling on reservation, the state government has reverted Gujjars to the OBC category in the state.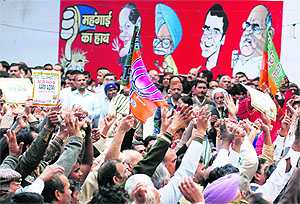 Bharatiya Janata Party workers raise slogans against food price rise at a rally in New Delhi on Wednesday. A Tribune photograph

Hearing on Rathore's appeal postponed
Chandigarh, February 10
Additional District and Sessions Judge Raj Sekhar Attri has postponed the hearing on an appeal filed in connection with the Ruchika Girhotra molestation case till March 10. The same will now be heard on March 10, 11 and 12. With this, Rathore's bail also stands extended
India-Russia pact on Gorshkov soon
Bangalore, February 10
The Navy today said an additional agreement between Russia and India would be soon signed to finalise the price of aircraft carrier Admiral Gorshkov.
Farm Land Ownership
Deletion of Prez kin's names ordered
Amravati (Mah), February 10
A revenue court here has ordered that the names of relatives of President Pratibha Patil, including her husband Devisingh Shekhawat, to be deleted from the ownership of a disputed piece of agricultural land in a village near here.
France looking at India's request to lift turban ban
New Delhi, February 10
Even as a debate is under way on Paris's proposal to put in place a law to ban 'burqa' in public, France is said to be looking at India's request for lifting restrictions on wearing of turban by Sikh children in schools.
SC's no to early hearing on Bofors
New Delhi, February 10
The Supreme Court today rejected a plea for early hearing of a petition that has challenged the Delhi High Court order quashing criminal charges against the Hinduja brothers in the Bofors pay-off case.
New mediator for Naga talks
New Delhi, February 10
Keen to restart stalled Naga talks in April, the UPA government has decided to appoint former petroleum secretary RS Pandey as its new interlocutor to facilitate this dialogue with the major insurgent outfit, the Isak-Muivah faction of the National Socialist Council of Nagaland (NSCN-IM). Pandey has been picked up for this task, as he has served as chief secretary in Nagaland and is said to have a good grasp of the issues that have led to the long spell of insurgency in this north-eastern border state.
Agni-V to be ready by next year
New Delhi, February 10
Clearly aimed at countering imbalance with China on long-range missile front, the Defence Research And Development Organisation today announced that the Agni-V would be tested within one year from now. It all announced that the Agni-III, a 3,500 km range nuclear- tipped missile, was now ready for induction and use by the Indian Armed Forces.
Complaint against Raj Thackeray for hate speech
New Delhi, February 10
As many as five Delhi-based lawyers have filed a criminal complaint in a court here against MNS chief Raj Thackeray for his alleged remark that he would not be responsible if demand for a separate Maharashtra nation arises.
Nooriya tests positive for drugs
Mumbai, February 10
Nooriya Haveliwala, arrested for mowing down two persons last month allegedly under the influence of alcohol, has tested positive for drug consumption, the police said today.
Avalanches in Siachen kill three jawans
New Delhi, February 10
Three Army jawans were killed in a series of avalanches in Siachen Glacier in the northern part of Jammu and Kashmir today.
SC Sinha is NIA Director-General
New Delhi: Haryana cadre IPS officer SC Sinha was today appointed as Director General of the National Investigation Agency (NIA). He is currently Special Director of Central Bureau of Investigation (CBI). — TNS