Heritage fest: Folk artistes enthral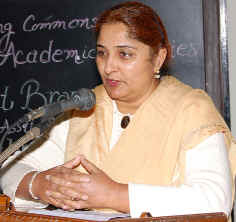 Navjit Brar speaking during a function at Abohar. Photo by writer

Punjab's rich heritage and culture was at its best during the international heritage and dance festival organised at village Jhoke Harihar last Sunday which saw fervent participation from folk artistes belonging to countries like Thailand, Poland, Argentina and Belgium.
The event which left an indelible imprint on the minds of every participant, presented a true colour and ardour of traditional Punjabi traits like Phulkari, Charkha weaving, Trinjhen, pot making. Besides, it also showcased a spiritual canvas of Punjab's soul stirring music and folk dances like Jhumar, Giddha and Bhangra.
Even the foreign artistes could not resist from joining the local folks as it seemed like that the Punjabi bhangra has crossed all barriers to touch the heart of each and everyone present to witness this enthralling festival.
This event which was held under the patronage of Karanbir Singh, president and members of the Baba Kala Mahir Youth Club with support of village panchayat and local youths led by Jaswinder Singh Sandhu enlivened the spirits of both young and old for whom it turned out to be thrilling experience.
Earlier, the villagers extended a warm welcome to the foreign artistes, who were taken to the venue in a big procession.
The women took out 'Jaago' as the entire village wore a festive look.
Punjabi folk artistes including Harinder Sandhu, Jaswant Sandila, Ranjit Mani, Baldhir Malh, Amarjit Lovely and Gurman Bhullar mesmerised the audience with their melodious performances holding them spellbound.
Artistes from Poland presented a "belle dance" whereas the dancers from Argentina showcased "Arabian dance".
Gurcharan Singh Sandhu, DTO, Ashok Handa, DPRO, Raghubir Singh Khaira coordinator Nehru Yuvak Kendra also extended vital help to the organisers.
— Anirudh Gupta
Primordial coins found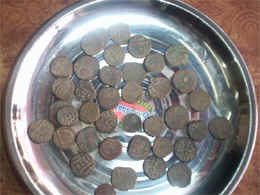 The primordial coins of 16th and 17th century have been found from a utensils shop of the historical town of Fazilka. The coins were found to the pleasant surprise of the shop owner Vicky Chhabra while cleaning his age-old utensil shop. He said that he has been running the traditional business of selling utensils in the third generation of his family. He believed that his forefathers might have kept these coins in lieu of sale of some utensils.
The coins are believed to be about five centuries old. It is considered that some of the total of 80 coins may be of the last phase of the Mughal period. They bear some inscriptions in Urdu and Persian languages. On some of the coins the mark of Trishul could also be seen. On some coins, there are signs of Lord Ram and Lakshman. Of the recovered coins, there are designs of flowers and certain crops too.
Graduate Welfare Association general secretary Navdeep Asija said that an exhibition of the old coins would be displayed at the clock tower. He said that the period and value of the coins found would be evaluated by the experts of the Archeological Survey of India.
— Praful Chander Nagpal
Focus on role of library
This weekend Abohar, tail-end town of Punjab, had a distinguished guest from California. In the series of its golden jubilee events, the DAV College organised a lecture by Navjit Brar, Assistant Dean, Access and Bibliographic Services, Kennedy Library, California Polytechnic State University, San Luis Obispo.
Navjit is daughter-in-law of veteran freedom fighter Gurbux Singh Kundal of this sub-division who had been sentenced to Andaman Nicobar jail by the British government for spearheading the freedom movement under the command of Giani Zail Singh.
Navjit is a gold medallist from Panjab University. She later topped in M.Lib at St. Jose State University California and served at California State University, University of Southern California, Michigan State University and New Jersey State College also.
Speaking about the vision of Kennedy Library Navjit said, "The library has got seven lakh books and its annual budget is six million dollars. Even when California reels under adverse economy the library budget has not been curtailed."
In today's information age, it is imperative to produce graduates who are competent and literate users of information. This strategic area recognises the library's increased role as a teaching and learning commons for the university, where students, faculty and staff can effectively and efficiently learn how to use information in its various formats.
Before incorporating a learning cafe within new or existing libraries, however, planners must keep in mind the types of learning best suited for this type of area and maintain a flexible design model so that the cafe can be adapted to future needs, she said.
She was honoured here by principal Dr BB Sharma, Dr Iqbal Singh Godaran, head of the department, Punjabi Department and BS Bhullar Dean of EMA Department.
— Raj Sadosh