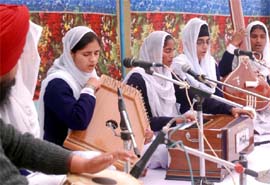 Students from Talwandi Sabo at a shabad recitation held at the Khalsa College in Bathinda on Wednesday. Tribune photo: Pawan Sharma
Atrocities on Dalits
SC panel asks DGP to review cases
Moga, February 10
The Punjab State Commission for Scheduled Castes slammed the state government for by-passing constitutional provisions and denying the Scheduled Castes their rightful due in special allocation of funds, reservations in jobs and addressing to the cases of atrocities being faced by them in day-to-day life.
10-yr-old helps foil bid to loot bank
Mansa, February 10
An attempt to loot a bank proved to be unsuccessful as villagers and the Mansa police made a timely intervention and nabbed all the robbers on the spot. The credit for this goes to a 10-year-old child, who played an important role in nabbing the robbers. As per the information, three robbers made an attempt to rob Satluj Gramin bank at Fafrebhaike.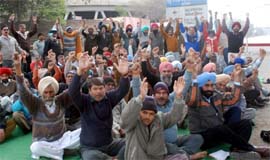 PSEB employees hold a demonstration against the privatisation move outside Guru Nanak Dev Thermal Plant on Wednesday. Tribune photo: Pawan Sharma
Moratorium on Bt Brinjal
KVM hails Centre's move
Bathinda, February 10
Appreciating the moratorium on release of Bt Brinjal in India, Punjab-based Kheti Virasat Mission (KVM) today urged the Centre to ensure that a liability clause is fixed on the crop developer making it solely liable for any potential leakage and contamination during the period of moratorium.
Skill development initiative helps 650 youths get jobs
Bathinda, February 10
Under a skill development initiative programme initiated by the district employment generation and training office, over 650 unemployed youths got jobs either in Bathinda refinery or private companies during the past more than one year. These youths were given free training for three months in different trades, like carpentry, masonry, welding, plumbing etc in some institutions of this district.
New courts complex to be inaugurated on Mar 6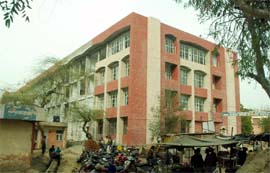 Bathinda, February 10
Crossing several hurdles, including the paucity of funds, the judicial courts complex here is finally going to be inaugurated on March 6. Besides, the inauguration of two under-construction sub-divisional court complexes at Rampura and Talwandi Sabo is also expected on the same day. Justice Mehtab Singh Gill, judge, Punjab & Haryana High Court, is scheduled to grace the inaugural ceremony.
A view of the judicial courts complex in Bathinda. A Tribune photograph

Streetlights remain on as TSU workers go on strike
Abohar, February 10
The financially impaired municipal council had to bear the brunt of the statewide strike by the Punjab State Electricity Board (PSEB) workers as none of the technical worker turned up to switch off the streetlights on Wednesday.
School van overturns, girl killed
Bathinda, February 10
A 15-year-old girl, a student of the Hindu Secondary School, Raman Mandi, was crushed to death when the school van carrying students turned turtle near Kotbakhtu village this morning. According to police sources, the vehicle was carrying school children from Kotbakhtu to Raman Mandi. Reaching near a canal distributary on the way, some pups came in the middle of road and despite blowing horn, they did not get away. Driver Sonu Singh parked the vehicle on the roadside and went down to clear the road.
Kumbh Mela
Special train to run today
Abohar, February 10
Kumbh Mela special 2-SBH express train will be run from Sriganganagar via Abohar-Bathinda on February 11-12, informed Hanuman Dass Goyal, vice-president of the Railway Passengers Association (NZ). The train will leave Sriganganagar at 5 pm to reach Haridwar the next day by 4 am.
'Hak Haaki Da' to be staged
Bathinda, February 10
To boost the morale of Indian hockey players as well as lending them financial aid, authorities at the Brills Institute institute are going to organise a strret play (nukkad natak) 'Hak Haaki Da' across the state.