Bansal for interlinking of rivers
Barnala, February 1
Stressing on the best use of water resources, the Union Minister for Water Resources and Parliamentary Affairs Pawan Kumar Bansal today said that interlinking of rivers is the need of the hour and has to be done in the interests of the country.
Mobile unit to detect breast cancer flagged off
Kotbhai (Muktsar), February 1
To control cancer in Malwa, the state finance minister, Manpreet Singh Badal, today launched a breast cancer detecting campaign by flagging off a fully-equipped mobile breast cancer detection unit, here.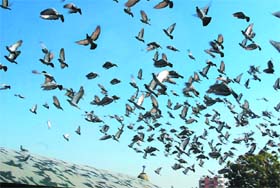 No flight of fancy: A flock of pigeons takes a flight near the Sports Stadium in Bathinda on a pleasant Monday afternoon. Tribune photo: Pawan Sharma
NGO demands setting up of eye banks
Bathinda, February 1
To promote eye-donation across the state, the Netradan Samiti, Bareta, which has been functioning under the Mansa district unit of the Bharat Vikas Parishad (BVP), today demanded setting up of eye-donation banks or eye-collection centres in all district hospitals of the state.
Kinnow plants begin to dry up in the region
Abohar, February 1
The kinnow plants have started drying up in a large number of orchards dotting this region. This trend, which has been catching up day by day, has triggered a wave of fear among orchard owners.
Hike in VAT: Traders resolve to go on strike
Fazilka, February 1
Scores of office-bearers and members of Beopar Mandal Fazilka led by its president Ashok Gulbadhar submitted a memorandum to the SDM Fazilka, addressed to the Chief Minister, Parkash Singh Badal, today.
215 undergo non-scalpel vasectomy
Bathinda, February 1
As part of a special campaign, as many as 215 persons were operated upon under non-scalpel vasectomy (NSV) programme in January in Bathinda district. Operations were performed at the hospitals in Bathinda, Goniana, Nathana, Ballianwali, Bhagta, Talwandi Sabo, Sangat, Rampura and Raman.
Sexually abused alleges harassment
Moga, February 1
Harjinder Kaur, a victim of sexual exploitation, has alleged that she was being harassed by the police and supporters of the Congress leader Harnek Singh, a former sarpanch of the nearby Ramuwala Kalan village, who was presently lodged in the judicial custody for exploiting her for the past over 15 months.
Dalit girl, labourer commit suicide
Moga, February 1
A Dalit girl (17) working as a labourer consumed poison while another Dalit man (45) ended his life by jumping before a train during the past 24 hours in the Moga district. Assistant sub-inspector, Harpal Singh, posted at Dharamkot police station while talking to The Tribune revealed that the young girl Charanjit Kaur, daughter of Harjinder Singh, hailing from Kot Mohammad Khan village, consumed sulphas on Saturday.
Man killed in road mishap
Fazilka, February 1
One Ramesh Chander Papneja (55) was killed in a road mishap here on Sunday. As per the FIR lodged with the city police, Fazilka, by Girish Kumar Gagneja, his father-in-law, Ramesh Chander had been running a departmental store.
Deer death
Bishnoi Sabha flays postmortem report
Abohar, February 1
The Akhil Bharatiya Jeev Raksha Bishnoi Sabha has rubbished the postmortem report that suggested that the pregnant female deer (3) was not killed by hunters but died of cardiac arrest in village Rampura on Sunday.
Investiture ceremony of Army on Feb 24
Fazilka, February1
The South West Command of the Indian Army has decided to celebrate its investiture ceremony for the current year in Sriganganagar (Rajasthan) on February 24, according to a press communiqué released by Indian Army here today.
Mansa NREGA stall at national fair in Delhi
Mansa, February 1
A stall of the National Rural Employment Guarantee Act (NREGA) performance in Mansa would be set up in the national fair of the NREGA at New Delhi on February 2. Selected districts of various states would participate in the fair and highlight performances, benefits and shortcomings of the scheme.