Panchayat polls
89 pc voting in Bhadra
Hanumangarh/Abohar, January 22
More than 89 per cent of voters exercised their franchise during the second phase of panchayat elections in Bhadra segment of Hanumangarh district, DRO-cum-DC Dr Ravi Kumar said in the evening. A higher poll percentage at 91.88 was recorded in Nohar segment, he added.
Fog fails to dampen voters' spirit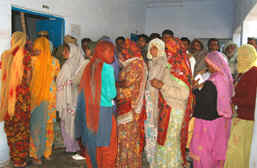 Sriganganagar/Abohar, January 22
Reposing their faith in strengthening the Panchayati Raj system, several thousand voters thronged the rural polling stations during the second phase of village panchayat, Panchayat Samiti and Zila Parishad elections on Friday even as dense fog kept reducing visibility to about 10 meter till 12 noon in Suratgarh sub-division of Sriganganagar besides parts of Hanumangarh district.
Voters wait for their turn at a rural polling station at Suratgarh on Friday. A Tribune photograph

Book exhibition inaugurated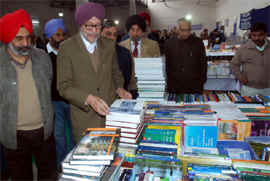 Bathinda, January 22
The two-day book exhibition organised by the Central University of Punjab on its campus here was inaugurated by Prof Gurdial Singh, a renowned Punjabi author and Jnanpith awardee, in the presence of Vice-Chancellor (VC) of the university Prof Jai Rup Singh and others. Prof Gurdial Singh also took a round of the book stalls at the exhibition.
Jnanpith awardee Prof Gurdial Singh along with Vice-Chancellor of the Central University of Punjab Jai Rup Singh (extreme left) taking a round of the book exhibition on the university campus in Bathinda on Friday. Tribune photo: Pawan Sharma

CPI stages protest against price rise
Bathinda, January 22
Activists and members of the Communist Party of India (CPI), led by district secretary Jagjit Singh Joga, today staged a dharna outside the Mini-secretariat here. They were protesting against rising prices and alleged "snatching" of the facilities by the government from the Dalits, farmers and labourers. They also raised slogans against the Central government.
Weapons recovered from Moga student leader
Moga/Jagraon, January 22
After the incident of firing by a group of students outside the court complex at Jagraon claiming the life of a student belonging to the rival group, the Jagraon police geared up tackle this problem and set up special nakas in the areas bordering the Moga district.
Dalit deserted by husband seeks justice
Writes to SC Commission for independent probe
Moga, January 22
A Dalit woman who has faced many hardships in her life and was thrown out of the house by her husband is now running from pillar to post to get justice and make both ends meet.
Suspicious, man shoots kin to death
Muktsar, January 22
Suspecting illicit relationhip of his wife, one Narveer Singh of village Midha allegedly shot dead his cousin Parminder Singh of village Burj Sidhwan at village Midha on Thursday.
Left holds rally against price rise
Mansa, January 22
Following the state-level call by the Left parties like the CPI and CPI (M), the workers of these two parties today held a protest rally in front of the SDM office in Mansa against the rising prices of essential commodities and improper implementation of NREGA scheme in Punjab.
Woman's hair sheared 'forcibly'
Bathinda, January 22
The Nehianwala police booked two couples of Gonaina Mandi for allegedly beating and cutting the hair of their neighbour Baljinder Kaur. Police sources said Baljinder accused Dev Singh and his wife Baljeet Kaur, Kewal Singh and his wife Jaswinder Kaur for forcibly entering her house and cutting her hair with a scissor.
Abduction charge on two
Bathinda, January 22
Acting upon the complaint of one Labh Singh of Rampura, the police booked one Jagdish Kumar of Kotla Koda village, Gukamal Singh of Dhipali and some unidentified persons for allegedly abducting Bhupinder Singh, who is son of the complainant and was working as a teacher at Shahkot in Moga.
Workers stage dharna
Abohar, January 22
Hundred of workers flouted prohibitory orders and staged a dharna inside the divisional office complex of the Punjab State Electricity Board (PSEB) here on Friday to express resentment over the suspension of five office-bearers of the Technical Services Union (TSU) and registration of an FIR against them at the city police station for allegedly giving corporal punishment to two sub-divisional engineers by forcing them to keep standing during the office hours last month.