Political rivalry hits housing project
Rajay Deep
Tribune News Service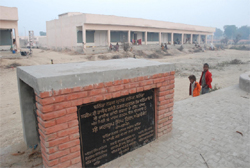 A view of the undeveloped Rajiv Gandhi Nagar on the Gurukul road in Bathinda. Tribune photo: Pawan Sharma
Bathinda, January 21
Rajiv Gandhi Nagar, a prestigious residential-cum-commercial township of the Improvement Trust, Bathinda, seems to be wobbling in political rivalry.
The foundation stone of the 17-acre township located on the Gurukul road near Sirhind canal in the city was laid on March 16, 2006, by Jagroop Singh Gill, the then Congress-affiliated chairman of the Improvement Trust. Later, the government changed and the Congress lost the chairmanship to the BJP.
During a visit to the township, it was observed that due the apathy of the authorities concerned, the township bears a shabby look. The work of laying the water and sewerage lines was once initiated, but has been halted now.
Sources in the Improvement Trust informed that a part of the layout of the township was still pending for approval from the higher authorities. Meanwhile, authorities had levelled some objections on the sale of plots there, for which the local officials have been filing their versions.
However, the authorities had recently sold the plots in through a draw system but facing some departmental objection, neither the allotment letters could be issued nor were the 'buyers' asked to pay the installments.
According to information collected, after acquiring the 17-acre land in January 2004, the authorities announced the township offering 317 vacant plots, 22 SCFs and 29 booths along with 10-meter wide roads bisecting each section. Two parks, a religious place and a disposal area were also to be developed by the authorities.
The authorities developed 15 SCFs but none of them could be sold till date, sources reported.
As the water and sewerage lines have not been laid completely, no road has been metalled. The parks were constructed but could not be developed.
Adding insult to the injury over the snail's pace development of the township, dozens of families of migrant labourers have started using the constructed areas as dwellings.
Chairman of the Improvement Trust Ashok Bharti said, "Though it took time in the past, we are committed to develop the township as per the scheme. There was no major hurdle in the project. We have completed all documentary formalities and the hurdle, if any, would be overcome soon."