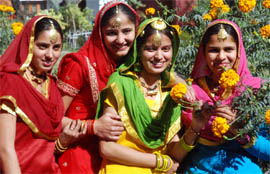 Students of the SSD Women's Institute of Technology, Bathinda, participating in 'Virsa' programme held at the institute on Saturday. Tribune photo: Pawan Sharma
Detention of ETT teachers
Dharna enters second day
Mansa, January 30
Several political and other organisations started an indefinite dharna in front of the Bareta police station against the detention of Jammu ETT unemployed teachers, who were arrested during the Chief Minister Parkash Singh Badal rally at Bareta on January 28.
Bid to loot ATM in Ferozepur
Ferozepur, January 30
In an unsuccessful attempt, two unidentified youths tried to rob the ATM machine of the Ferozepur cantonment branch of the Punjab National Bank (PNB) during the wee hours on Friday. As per the information, the robbers managed to break the shutter of the ATM and tired to take the cash out.
Hike in VAT Fazilka traders to go on strike
Fazilka, January 30
Traders of Fazilka have decided to protest against the decision of the state government to increase VAT from 4-5 per cent and surcharge along with the entry tax on certain other items. The traders have decided to observe half-day strike on Tuesday and would protest with black flags during the visit of the Chief Minister, Deputy Chief Minister and Local Body minister during their visit to this area.
Student killed in road mishap
Bathinda, January 30
A student of class-XII was killed in an accident occurred on the Bathinda- Dabwali road on Friday night. As per sources, the mishap took place when two youths were travelling on a motorcycle. On receiving information, the workers of the Sahara Jan Sewa reached the spot.
Sham Lal Bansal is chief of Bathinda BJP (urban)


Bathinda, January 30
Sham Lal Bansal was unanimously elected as district president (Bathinda urban) of the Bharatiya Janta Party (BJP) at a meting here today. Kewal Kumar, secretary, Punjab unit of the BJP, conducted the election as district returning officer and declared Bansal as district president of Bathinda (Urban).

Sham Lal Bansal
CD depicts plight of Indian Hockey
Bathinda, January 30
A local educational institution, Brills Institute, on Saturday released a video CD, depicting the plight of Hockey in the country, having a song in favour of the Hockey. Director of the institute, Ashok Sadiora, said that this CD was being distributed among people free of cost.