Rights panel seeks DC's report on 'illegal' gates
Ludhiana, February 15
The Punjab State Human Rights Commission (PSHRC), taking cognisance of the gates installed on several public thoroughfares in various localities of the city, has sought a report from the deputy commissioner by March 4, the next date of hearing on the complaint filed by a city resident, RL Joshi.
Homoeopathic college
Teachers resort to indefinite strike
Ludhiana, February 15
The Association of Teaching Staff (ATS) of Lord Mahavira Homoeopathic Medical College and Hospital today started an indefinite strike in support of their demands as talks with college management failed to reach an amicable solution.
Students felicitated at annual function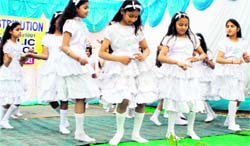 Mandi Ahmedgarh, February 15
About 400 students were felicitated at an annual function held at Victoria Public High School, Lehra, recently. Dev Raj Sofat, former ADM, Punjab Roadways, presided over the function and Anil Kumar Aggarwal chief executive official, Shryanas Industries Limited, was the chief guest.


Students perform during the annual day celebrations at Victoria Public High School near Ahmedgarh. Photo: Mahesh Sharma
Panel discussion for LMA members today
Ludhiana, February 15
The Ludhiana Management Association will organise a panel discussion on "Success and generation next: Opportunities and challenges" here tomorrow. The discussion will be moderated by Dr Sandeep Kapoor, associate professor, department of business management, PAU. The discussion panel comprises Adish Oswal, group director, corporate affairs and business development, Oswal Group, Harpreet Kaur Kang, deputy dean, Punjab College of Technical Education, Mini Rayat, MD, Akal Springs, Yuvraj Aggarwal, director, Bharat Box Factory Limited and Vishal Jain, executive director, Neva Garments Limited.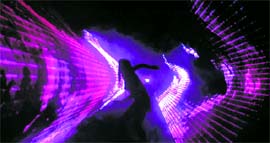 A laser show organised at the Lodhi Club to celebrate Valentine's Day in Ludhiana on Sunday. Photo: Inderjeet Verma
GN International students excel
Ludhiana, February 15
Students of GN International Senior Secondary Public School, Model Town, won many awards at different competitions organised at Chandigarh recently. The Bhakra Beas Management Board, Chandigarh, held a national-level painting competition on energy conservation. Purpose of the competition was to encourage and develop the spirit of energy conservation. The competition was to motivate children towards thinking about energy conservation and offered them a chance to explore their creativity. Children from classes IV to VI were eligible for the competition.
Workshop on kharif crops
Ludhiana, February 15
Punjab Agricultural University (PAU) will organise a state-level research and extension specialists' workshop for kharif crops on February 16 and 17. Dr MS Gill, director of extension education, said PAU Vice-Chancellor Dr Manjit Singh Kang would inaugurate the workshop.
Rohit shines in poem-recitation contest
Mandi Ahmedgarh, February 15
Rohit Kapoor, Satish Chander Dhawan Government College, Ludhiana, and Palvi Saluja, Arya College, Ludhiana, emerged winners in the inter-college poetical recitation competition organised at Shati Tara College, Akbarpur Chhanna, near here recently.
Placement drive at RIMT institutes
Mandi Gobindgarh, February 15
Automobile giant VE Commercial Vehicles Limited, a 50-50 joint venture of Eicher Motors Limited, Gurgaon, and AB Volvo, Sweden, visited RIMT Engineering Institutes today for recruiting final year students of BTech mechanical stream.
It's tough being left holding the baby!


The recently held annual convocation of Punjab Agriculture University was a mélange of accomplishments, proud moments, nostalgia, knowledge and fun. Inside the hall enthusiastic students waited with bated breath for their turn to get their degrees. Outside a father of a few months' old child was having a tough time trying to soothe the baby since morning while its topper mother was inside the hall. As soon as the function got over the young man rushed to hand over the crying child to his wife.
MCPI slams govt over price rise

Ludhiana, February 15
In response to a call given by the central committee of the Marxist Communist Party of India (MCPI), party activists staged a dharna against the skyrocketing prices of essential commodities, increasing unemployment, corruption, repression against Dalits and teachers and other "anti-people" policies of the government.


Activists of the MCPI stage a dharna in Ludhiana on Monday. Photo: Inderjit Verma
Threatens coordinated protests
Mandi Ahmedgarh, February 15
Accusing the successive governments of ignoring the interests of common people, the state unit of the Marxist Communist Party of India (MCPI) has threatened to launch a coordinated movement against price rise and "anti-people" policies of state and the Centre governments.
Water stagnation
MC to get high-jetting machine for trial
Ludhiana, February 15
The major challenge of solving water stagnation problem across the city, especially the old city area, has been given a top priority by the Ludhiana Municipal Corporation in the Budget 2010-2011.
Industry seeks power reforms
Demands industrial feeder status for those having load of over 75 per cent
Ludhiana, February 15
City industrialists have again reiterated their demand for an early implementation of the power reforms as per the Punjab Industrial Policy, 2009. They said if the load of industry on a power feeder was more than 75 per cent, it should be treated as an industrial feeder. A delegation of the Ludhiana Engineering Association met the chief engineer, Punjab State Electricity Board, here today in this connection.
SSP felicitated
Mandi Ahmedgarh, February 15
Recognising his outstanding contribution in checking the menace of drug addiction, social, religious and constitutional organisations of the area felicitated SSP Ludhiana (Rural) Harinder Singh Chahal at a function organised at Kalakh village yesterday.
Abandoned by NRIs, women seek justice
Ludhiana, February 15
Their families are debt ridden and they feel dejected as their future is dogged with uncertainty. This is a sordid tale of women, abandoned by their NRI husbands, who have been rightly termed 'nowhere women' of Punjab. As the law of land has failed to help them, they are forced to sit back with a feeling that they are unwanted in this world.
Man stabbed to death; 3 held
Ludhiana, February 15
Four armed assailants stabbed a middle-aged man to death in Balmiki Nagar near Haibowal late last night. The incident took place around 11 pm when four youths arrived at the house of Pritam Singh (45), a Class IV government employee, and asked him to come out. According to eyewitnesses, Pritam entered into a heated argument with the assailants following which they took out a sharp-edged weapon and stabbed him a number of times in the abdomen. Pritam raised an alarm and cried for help before collapsing on the road.
Swindler held for selling 'road'
Ludhiana, February 15
The city police has nabbed a swindler, who along with his accomplices, sold a piece of land to a city resident, which turned out to be a road in the revenue records. The accused identified as Narinder Singh, a resident of Rajguru Nagar, was arrested by the Sarabha Nagar police.
Accident victim traced
Khanna, February 15
An accident victim, who sustained injuries after being hit by a speeding truck near the local bus stand on Wednesday, was found from near the Neelon bridge yesterday. Repeated searches by the local police on directions of the SSP helped in tracing missing man-Nanak, a resident of Rajasthan Colony.
Athletics Meet
Rekha, Harmandeep hog limelight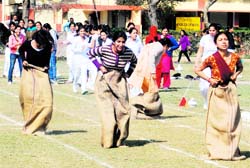 Ludhiana, February 15
Rekha, a student of BA I, and Harmandeep, a student of BA II, hogged limelight on the opening day of the 49th Annual Athletics Meet being held at Khalsa College for Women, Civil Lines, here today. The tournament was organised in memory of cooperation minister late Captain Kanwaljit Singh. It was presided over by Banur MLA Jasjit Singh Banni.


Students particiapte in a sack race in Ludhiana on Monday. A Tribune photograph
Kabaddi meet concludes
Mandi Gobindgarh, February 15
The national-level Harpreet Memorial three-day kabaddi tournament organised by Baba Maru Dass Memorial Sports and Cultural Club concluded last evening at Salana village near here. Rekha romped home victorious in three events, namely long jump, high jump and javelin throw, while Harmandeep proved her mettle in two disciplines- shot put and discus throw.