Testing lab to check misbranding to come up in valley
Srinagar, February 19
A testing laboratory to check the misbranding of handmade Kashmiri products is expected to come up in the valley soon. "Work on the laboratory is scheduled to start next month," informed MS Farooqi, Director, Craft Development Institute (CDI), during a meeting with the Kashmir Chamber of Commerce and Industry (KCCI) here yesterday.
Security of two PDP leaders withdrawn
Srinagar, February 19
The PDP here today alleged that the coalition government had withdrawn official security to its leaders from Pulwama district, a day after Chief Minister allegedly threatened to punish the districts where demonstrations were taken against his government.
Govt mulls inducting SPOs in police
Jammu, February 19
If senior state leaders and ministers are to be believed, in a few days the long-pending demand of Special Police Officers (SPOs) to induct them in the police department will be accepted.
Farmers denied govt jobs in lieu of land
Surankote (Poonch), February 19
Over 200 families of Poonch district, whose lands were acquired by the government in lieu of promise to give government jobs, are being hoodwinked by the authorities, as they have not been given any compensation or promised jobs.
Manch threatens to gherao Assembly
Jammu, February 19
The Anusuchit Jaati Aarakshan Bachao Manch (AJABM) has threatened to gherao the assembly during the coming Budget session, if any attempt was made to introduce a Bill abolishing inter-district recruitments for Scheduled Castes (SCs).
SAD flays statement of Chidambaram
Jammu, February 19
The state unit of the Shiromani Akali Dal today expressed great shock and anguish over the statement of Union Home P Chidambaram in which he refused amnesty to Sikh youth.
Rs 12 crore for psychiatric centre
Jammu, February 19
The state government has sanctioned Rs 12.30 crore for an ultra-modern psychiatric centre in consonance with the guidelines of the Medical Council of India (MCI).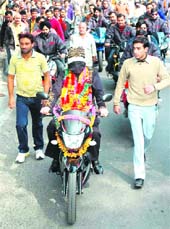 Blindfolded Shanker Samrat rides a mobike in Gandhi Nagar in Jammu on Friday. Tribune photo: Anand Sharma
Arms licence: Militant's kin booked
Miran Sahib (Jammu), February 19
While controversy over including Sikh militants in the proposed surrender policy is erupting in Punjab, the Jammu and Kashmir police has booked Ravinder Singh, younger brother of Ranjeet Singh, alias Neeta, the head of the Khalistan Zindabad Force (KZF), for allegedly getting a .12 bore gun licence issued in the name of his dead father.
Varsity Campus Additional Rs 70 lakh okayed
Udhampur, February 19
Udhampur MLA Balwant Singh Mankotia yesterday said an additional sum of Rs 70 lakh had been released for other facilities at the proposed construction of the Jammu University campus in Udhampur.
Army officer found dead
Jammu,February 19
Mystery shrouds the death of an Army officer, who was found dead in his room in the Thannamandi area yesterday.
Board agrees on uniform math, science syllabus
Jammu, February 19
The State Board of School Education (BOSE) has decided to follow the decision of the Council of Boards of School Education (COBSE) of uniform math and science syllabus for class XI and XII from next academic session.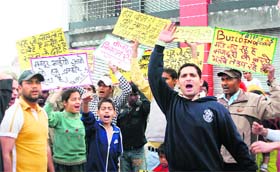 Labourers and local residents raise slogans against the owner of an underconstruction shopping complex in Jammu on Friday. A Tribune photograph
Crime File
Woman goes missing
Jammu, February 19
A woman has been missing from her house for the past few days, the police said today.It said Rita Devi, a resident of Kishtwar and at present residing at Sainik Colony, has been missing since February 17. A missing report has been filed.
Sonia adjudged best speaker
Udhampur, February 19
Sonia of Government Higher Secondary School (GHSS), Ramnagar, was adjudged the overall best speaker, while Rishu Rajput of Government Higher Secondary School (GHSS), Barolla, clinched the first position at the symposium on anti-tobacco organised at the GHSS, Ramnagar, today.