Holi celebrations on in Kumaon region
Nainital, February 21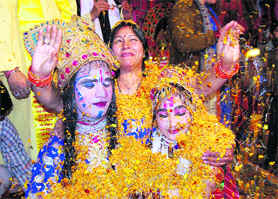 The Kumaoni Holi celebrations, which are unique in nature, have got underway in the region to herald the festival of colours. The uniqueness of Kumaoni Holi lies in the singing of songs that are rendered in a classical format of thumri. The Holi singing is better known as Baithaki Holi in which both the singer as well as the audience enjoy the renditions while gathering at a particular place.
Holi being celebrated with flowers at a temple in Dehradun on Saturday. Tribune photo: Anil P Rawat

Scholars Home School observes founder's day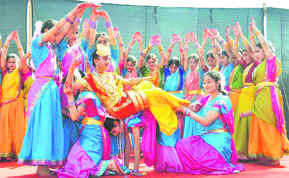 Dehradun, February 21
As part of the ongoing diamond jubilee celebrations, Scholars Home School celebrated its founder's day with great style and grandeur here today. The sprawling campus remained agog with activity as thousands of children plunged into a wide spectrum of creative activities to mark the occasion.
A raslila scene being enacted by students of Scholars Home School during founder's day celebrations in Dehradun on Sunday. A Tribune photograph

Basant Utsav gets flowery farewell
Dehradun, February 21
The two-day Basant Utsav concluded today with IIT, Roorkee, bagging the running shield and a total of eight awards in the institution category.
Garden lovers turn up with queries
Dehradun, February 21
A miniature version of a herbal garden, it's fragrance travelling far and wide, put up at the Basant Utsav (spring festival) was the cynosure of all eyes.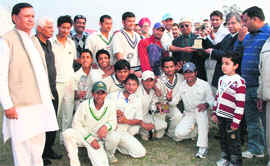 Abhimanyu Cricket Academy win league
Dehradun, February 21
Abhimanyu Cricket Academy team lift the 58th District Cricket League trophy for the second consecutive time here today. Vipin was the star bowler for the team after claiming four wickets.
Abhimanyu Cricket Academy team receive the trophy after winning the league in Dehradun on Sunday. A Tribune photograph

Sunderwala Boys qualify for next round
Dehradun, February 21
The Sunderwala Boys team move to the next round after defeating Doon United in a tiebreaker by 5-4 at the Narayan Gurung Memorial Football Tournament here today.
Shri Guru Nanak Inter College organises prayer meeting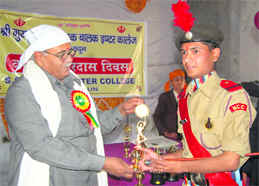 Dehradun, February 21
Shri Guru Nanak Public Boys Inter College organised a prayer meeting, "Akaal Purakh", for students to seek blessings for the board examination. The ceremony was a ritual meeting, where religious leaders delivered verses from Guru Granth Sahib. College students and the sect from the Shri Guru Singh Sabha narrated the Gurbani.
Harbans Kapoor, Speaker of the Uttarakhand Vidhan Sabha, presents an award to an NCC cadet at Shri Guru Nanak Public School, Dehradun, on Saturday. A Tribune photograph

New Star lift Suresh Memorial trophy
Dehradun, February 21
The New Star team lifted the Suresh Chand Memorial Cricket Tournament trophy here today.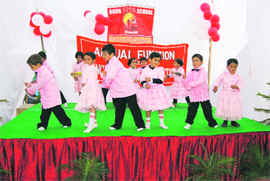 Kids take part in annual function
Dehradun, February 21
Doon Kids School celebrated its annual function, along with a fancy dress competition, here yesterday. The programme began with the lighting of the lamp by MLA Ganesh Joshi and a dance on Saraswati vandana by one of the participants.
Kids at the annual function of the Doon Kids school in Dehradun on Sunday. A Tribune photograph

Students throng 'Antarnaad' at ICFAI varisty
Dehradun, February 21
ICFAI University witnessed the third day of the first intra-college fest "Antarnaad" on the campus in Selaqui. To add to the festivity on the campus, over 3,000 students were present having a gala time here today.
Session on education in NZ
Dehradun, February 21
Keeping with SIEC's (overseas education consultant), philosophy of educating and informing students about career prospects and route to education abroad, an interview session for admission to New Zealand's top three universities with aspirants will be organised for the very first time here tomorrow.
Club donates gifts, desks to poor students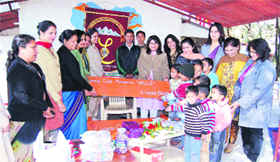 Mussoorie, February 21
At a simple ceremony, members of the Lioness Club Hills, Mussoorie, donated 16 desks and distributed gifts ranging from sweets and stationary among poor students of class I to XII on the premises of the Sai Pursuit Foundation here today.
Members of the Lioness Club donate gifts among poor students at Mussoorie on Sunday. Photo by writer

Narrow victory for Avon Technology
Dehradun, February 21
Avon Technology defeated Doon Giant by three runs at Jitender Anand Cricket Tournament here today.