2 sisters 'abducted' by godman
Ludhiana, February 25
In a sensational case, two sisters and students of a local college have allegedly been kidnapped by a religious leader who they had been following for the past two years.
Cong to pick leader in MC house on Sunday
Ludhiana, February 25
With the Congress party will choose its leader in the municipal corporation at a meeting here of party councillors and local leaders scheduled on Sunday. The meet will be chaired by senior party leader and Gurdaspur MP Partap Singh Bajwa.
Go herbal this Holi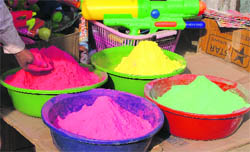 Ludhiana, February 25
Holi is around the corner, but many people confine themselves to their homes, fearing synthetic colours. This time around, however, herbal colours are the in thing. Eco-friendly, these colours and pastes are natural extracts from flowers, vegetables and minerals. The colours can be made from the petals of rose, marigold, hibiscus and bougainvillea, sandalwood, henna, tesu, turmeric, multani mitti, spinach and indigo.
Chinese kite string banned
Ludhiana, February 25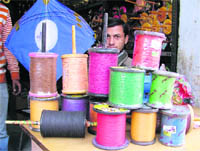 The Ludhiana administration has banned Chinese kite string that was responsible for taking the life of a child at Khanna. The administration has banned the sale of Chinese plastic thread. Imposing the orders, District Magistrate Vikas Garg said the action was taken following the death of a 6-year-old boy from Khanna when his throat got slit with Chinese thread on January 25. He said anybody selling or buying a thread would be prosecuted.Reports pertaining to the problem caused by the plastic thread was published in these columns frequently at the time of Lohri.
Rolling his way to Vaishno Devi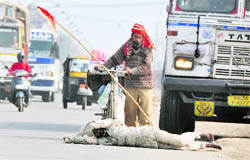 Ludhiana, February 25
Faith has instilled a sense of adventure in Brajesh Kumar (38), a resident of Gulabi Bag in Delhi. He has covered a distance of 300 km while rolling on the road and he wants to cover another 320 km to Vaishno Devi Mata shrine.



Brajesh Kumar rolls as he passes through Ludhiana. Tribune photo: Himanshu Mahajan



1984 riot victim may move court against demolition
Doraha, February 25
A 1984 riot victim is up in arms against the local municipal council for being served a notice for the demolition of his shop.
32 constables promoted
Jagraon, February 25
SSP (Ludhiana rural) Harinder Singh Chahal yesterday promoted 32 constables to the rank of havildar, besides including 22 SPOs in regular police services on the rank of constables.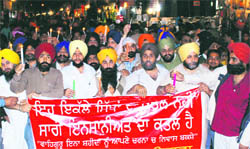 Sikhs take out a candle march at the Chaura Bazar in Ludhiana to protest against the beheading of two members of the community in Pakistan. A Tribune photograph
Cong MLA terms state govt a failure
Ludhiana, February 25
Harmohinder Singh Pardhan, Congress legislator from Raikot, today launched a scathing attack on the SAD-BJP government, saying it had failed on all fronts and people from different sections of society were feeling let down.
Cops to return seized property to owners
Jagraon, February 25
The Ludhiana (rural) police has decided to return all property confiscated in cases that have been settled in court to their owners. "In this regard we've already obtained the permission of the courts concerned. Property worth crores of rupees is turning into junk in the open courtyard of police stations, occupying precious space", said SSP Harinder Singh Chahal.
Fazilka-Abohar rail link sought
Ludhiana, February 25
The Rajasthan Sadhu Samaj has urged the Railway Minister to make provisions for laying a double-rail track on the Jakhal-Ferozepur section and providing rail connectivity from Fazilka to Abohar.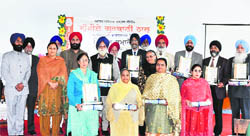 Book on Gurbani released
Ludhiana, February 25
Gurbani has something special to give to the world. Taking Guru Nanak's teachings, imbibed in the Gurbani, to every home through children is the aim of the book series.

A function to release "Jeeviye Gurbani Naal" under way in Ludhiana on Wednesday. Photo: Inderjeet Verma
DC meets officials to chalk out plan
Ludhiana, February 25
Deputy Commissioner Vikas Garg addressed a meeting of block development and panchayat officers (BDPOs), nagar council and nagar committee officials to chalk out a plan for the issuance of the smart cards to people living below poverty line here today.
Put nation above self, says Rotarian
Mandi Ahmedgarh, February 25
Showing concern over growing number of predicaments in the country, Ashok Mahajan, a philanthropist and representative of Rotary International President John Kenny, called upon office-bearers and activists of the social and religious organisations to launch a coordinated move to tackle nation's gravest crisis of character deterioration.
Delegates from UK visit Punjab
Ludhiana, February 25
To promote and explore business opportunities in Punjab and UK, a delegation led by Paul Grey, first secretary, UKTI, British High Commission of the UK Trade and Investment (UKTI), today visited Ludhiana.
Free dental check-up camp
Ludhiana, February 25
Baba Jaswant Singh Dental College and Hospital organised a free dental check-up and awareness camp at Gurdwara Shri Guru Nanak Dev, Maya Nagar, Civil Lines, Ludhiana.
ITI staff demand regularisation
Ludhiana, February 25
Over 550 contractual employees of ITI, Punjab, today held state-wide protests in various zones demanding regularisation and equal pay for equal work.
Grading system causing confusion
Ludhiana, February 25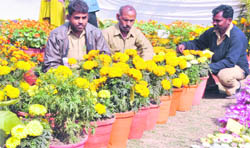 The grading system introduced by the CBSE has created a lot of confusion among educationists, students and parents.

Gardeners who won at the flower show organised at the PAU in Ludhiana on Thursday. A Tribune photograph
Pink petunias, red salvias on display
Ludhiana, February 25
Gardeners of various city schools participated in the potted plant competition. Bleaming with pleasure, they were confident to win the contest for the seventh consecutive year, as they displayed their flowers on the opening day of the Flower Show today at the PAU.
Poetry, skits mark annual function
Ludhiana, February 25
Cherry Lane Play School organised its annual function here today. Theme of the function was "Walking through the jungle".
Prize distribution at Sidhwan College
Jagraon, February 25
The annual prize distribution function of Khalsa College for Women, Sidhwan Khurd, was held here recently.
Placement drive at RIMT
Mandi Gobindgarh, February 25
A2Z Maintenance and Engineering Services, a Gurgaon-based electrical business group visited RIMT polytechnic institute for recruiting final year electrical students of diploma course here today.


Sarpanch nabbed for drug peddling
Ludhiana, February 25
The narcotics cell of the police nabbed a sarpanch and his helper for peddling 4 kg of opium on the GT Road near Sahnewal here today.
Gang of snatchers busted, two held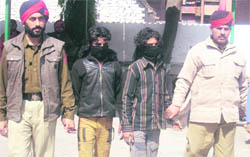 Ludhiana, February 25
With the arrest of two youths, the Division No. 4 police claimed to have busted a gang of snatchers who used to rob persons in the wee hours near the new Sabzi Mandi area.





The two youths arrested for snatching in police custody. Photo: Inderjeet Verma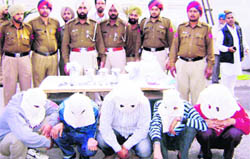 Five held with weapons
Raikot, February 25
The police got a major breakthrough when it arrested five youths for their alleged involvement in numerous criminal acts here yesterday. Weapons were also seized from the accused.



The five youths arrested with weapons at the Raikot police station. Photo: Rakesh Gupta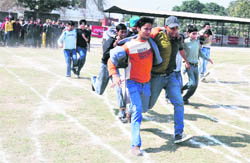 Rachhpal first in long jump
Ludhiana, February 25
Rachhpal Singh and Ramita were adjudged the best athletes (boys and girls) in the 63rd Athletics Meet of Arya College, Civil Lines, which concluded here today.




Students during an athletics meet at Arya College in Ludhiana on Thursday. A Tribune photograph
Gurjot, Gauradeep adjudged best athletes
Ludhiana, February 25
Gurjot Kaur Walia and Gauradeep Singh were declared the best athletes (girls and boys) in the Golden Jubilee Athletics Meet of Guru Nanak Dev Engineering College, Ludhiana, here today.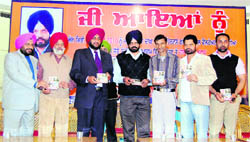 Promoting sports among youth
Mullanpur Dakha, February 25
The sports club of Dakha constituencies yesterday gathered to promote sports among youth.



Manpreet Singh Ayali, SSP Harinder Singh Chahal and others release a video comedy CD at Mullanpur Dhaka. A Tribune photograph
Sandeep, Kuldeep emerge fastest runners
Mandi Ahmedgarh, February 25
Sandeep Singh and Kuldeep Kaur of Government College, Karamsar, emerged the fastest runners during the 39th annual athletics meet, which concluded on the college premises here yesterday.