BJP workers cane-charged
Tribune News Service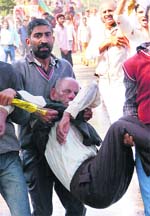 An injured worker being taken to hospital.
Chandigarh, February 25
Chaos reigned as the police today cane-charged BJP workers and leaders who had gathered here to protest against price rise and submit a memorandum to Governor Jagannath Pahadia.
At least three workers sustained injuries in the cane-charge which came after the police trained water-canons at the protesters to dispers them. Later, workers led by the state BJP's legislature group Anil Vij courted arrested at the venue of the protest. Subsequently, the police arrested other senior leaders, including president Krishan Pal Gurjar, former MP Rattan Lal Kataria, Capt Abhimanyu, Ram Bilas Sharma, Rajiv Jain and Gian Chand Gupta.
They were produced before a duty magistrate.
Despite heavy police deployment and barricades around Panchayat Bhawan, Sector 18, the venue chosen to begin the protest march, BJP workers began arriving in large numbers early in the morning.
Trouble arose when the workers tried to scale the barricade to cross over. At this, the police swung into action and tried to push the workers off the barricades.
Realising the "enthusiasm" of the workers would be hard to contain, the police directed water canons at the activists trying to scale the barricade. This was followed by a cane-charge on the protesters. A few workers were injured.
All hell broke loose as workers scurried for cover and ran helter-skelter to save themselves from the police baton. Later, workers along with Anil Vij courted arrest at the venue. State BJP chief and MLA Krishan Pal Gujjar said the police action was "unprovoked".
He said the police had used force against his workers holding a peaceful demonstration.
"The BJP workers were not breaking the law in wanting to submit a memorandum to the Governor against the spiralling price rise. This cane-charge on our workers was uncalled for."
When senior leaders led by Gurjar were with the Governor to submit a memorandum, BJP workers were being lathi-charged in Sector 18.
On getting reports of the lathi-charge and that the workers had courted arrest, the delegation at Raj Bhavan reached the Sector 26 police station.
"The delegation comprising senior leaders decided to go to the police station to inquire about the welfare of the workers and Anil Vij. However, on reaching the police station, we were told that we, too, were under arrest and that a case would be made out against us.
"It seems strange that we should be arrested for something we were not party to, especially since we were not on the scene at that time.
"We were at Raj Bhawan. By illegally detaining us, the police is only showing its high-handedness. This is grave injustice," Gurjar added.