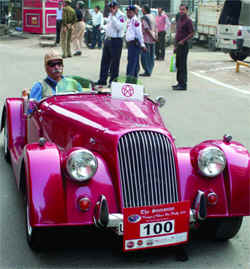 A participant at the Vintage and Classic Car Rally-2010 at Connaught Place in New Delhi on Sunday. Tribune photo

Call centre employee crushed as crane topples on 3 cars
New Delhi, February 28
A 30-year-old call-centre employee was crushed to death when a crane toppled and fell on three cars in west Delhi where a Delhi Jal Board work was going on in the wee hours today. According to information, the incident took place near Rajouri Garden flyover around 3 am.
Cop accused of rape
New Delhi, February 28
A 25-year-old woman was allegedly raped by a Delhi police constable at her residence while her husband was away in the Dwarka area of south west Delhi. The incident was reported from Dwarka Sector 16 on Wednesday, when the victim's husband reported the matter to the police.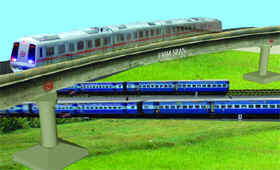 Metro makes longest bridge segment
New Delhi, February 28
A 100-metre long concrete span being erected to pass over four rail tracks in south Delhi's Okhla area will be the longest segment so far used by the Delhi Metro for a bridge, an official said on Sunday.
A view of the longest Metro span being constructed on a bridge near Okhla, in New Delhi on Sunday. This 100-metre span is being built over an operating railway track. Tribune photo

19 drunk Holi revellers held
Greater Noida, February 28
Nineteen drunk men have been arrested here for indulging in hooliganism and disturbing public peace on pretext of Holi festivities.
Beware of chemicals
Noida, February 28
While all sections of society have been waiting for the Holi festivities on Monday, authorities are apprehensive that unscrupulous elements can endanger the health of people by spraying chemicals mixed in gulal and colours through pichkaris.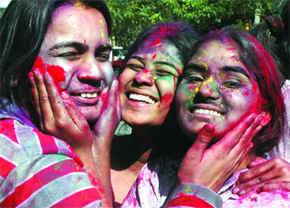 Play safe Holi: Dadwal
New Delhi, February 28
The city police commissioner has appealed to all residents and especially youngsters to play Holi in the right spirit without indulging in any hooliganism on the occasion of Holi tomorrow. Greeting Delhiites on the occasion, City Police Commissioner Y S Dadwal said the festival should be celebrated in all its spirit but it should not infringe on the rights of others.
HOLI REVELLERY: Girls celebrate Holi in New Delhi on Sunday. Tribune photo: Manas Ranjan Bhui

Help civic agency solve water woes: HC
New Delhi, February 28
Fed up with not receiving water supply for nearly three months, a resident of east Delhi's Shahdara area has approached the Delhi High Court, which in turn has asked residents of the area to help the civic authorities solve water crisis.
Way to de-stress for C'wealth Games volunteers
New Delhi, February 28
As pressure mounts on volunteers for the approaching Commonwealth Games in the Capital, they may find the perfect way to stay high on enthusiasm and physical fitness with an Art of Living course.
Health scheme for central govt staff
New Delhi, February 28
There is some cheer in store for the central government employees and pensioners in the Capital, as the Union ministry of health and family welfare has taken up a programme under the Central Government Health Scheme (CGHS).
Godman likely to be booked under MCOCA
New Delhi, February 28
The Delhi police is likely to invoke provisions of MCOCA against a 39-year-old self-styled God man who was arrested for allegedly running a multi-crore sex racket in the national capital. Shiv Murat Dwivedi (39), alias Ichchadhari Sant Swami Bhimanand Ji Maharaj Chitrakoot Wale, who had set up a 'temple' in south Delhi's Khanpur, was arrested with a man and six women, including two airhostesses, last week on charges of prostitution.
Four killed in accidents
Greater Noida, February 28
Two students were injured as a school bus collided with a Scorpio car in the Dankore Kotwali area on Saturday.
DELHI DIARY
Govt in the soup over hike in oil prices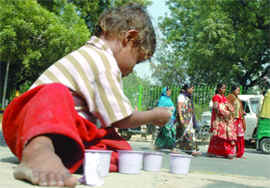 The hike in petrol and diesel prices in the Union government's budget has put the Delhi government in a fix. It had claimed that the rates of essential food items would come down in the Capital soon. An official, however, says that the hike in oil prices will make it difficult to contain the prices which may even go up. The Delhi government is selling wheat flour, eight kinds of pulses and sugar on control rate from outlets of Kendriya Bhandar and Mother Dairy.
A street urchin plays in New Delhi. Tribune photo: Manas Ranjan Bhui

Acid thrown on woman
New Delhi, February 28
Two unidentified youngsters on motorcycle threw some chemical, believed to be acid, on a 29-year-old woman in south-west Delhi last evening.
2 held with liquor bottles
New Delhi, February 28
Two youths, including a woman, were held with 1,296 bottles of illicit liquor in a north-west Delhi area in separate cases yesterday.
Delhi records season's hottest day in four years
New Delhi, February 28
Delhi today recorded the hottest day of the season in the past four years at 31.6° Celsius. The Met office has forecast a further rise in day temperature on Monday.
Man charred in showroom
New Delhi, February 28
A man was charred to death after a fire broke out in a Rebook showroom in Krishna Nagar area of east district last night.