'Illegal practice by docs rampant in residential areas'
Ludhiana, March 6 "
If information gathered under the RTI Act 2005 from the Improvement Trust here is any indication, a majority of doctors in the city have been practising "illegally" in residential areas.
IMA stand

Improvement Trust says

MC view
Murder case cracked
Victim's brother nabbed
Ludhiana, March 6
The city police claimed to have cracked a murder case by nabbing a man who killed his elder brother following a property dispute.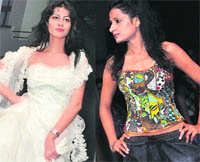 Fashion show wrapped in myriad hues
Ludhiana, March 6
"Avant Garde-2010", the fourth annual function of the Sportking Institute of Fashion Technology (SIFT), wrapped in myriad hues and vibrant SIFTIANs, was organised at Guru Nanak Bhawan here today.




Participants at a fashion show in Ludhiana on Saturday. Tribune photo: Himanshu Mahajan
Development
Sidhwan Bet gets Rs 15 lakh
Jagraon, March 6
Manpreet Singh Ayali, Chairman, Zila Parishad, Ludhiana, handed over a grant worth Rs 15 lakh to sarpanch Paramjit Singh and others of Sidhwan Bet village near here yesterday evening.
Shopkeeper attempts suicide
Mullanpur Dakha, March 6
A shopkeeper, who was unable to sustain himself, tried to commit suicide by piercing a screwdriver into his chest. The shopkeeper, who was also an active social worker, took this extreme step, as he was unable to run his business successfully.
Jain guru in city
Ludhiana, March 6
Jain guru, Shri Gachadhipati Jain Acharya Vijay Nityananda Suri visited the city and gave sermons to his followers in the Clock Tower chowk today.
Truck rams into traffic pole
Ludhiana, March 6
A major tragedy was averted when the driver of a speeding truck lost control over the vehicle and damaged a traffic light pole near Agar Nagar on the Ferozepur road here today.
Lepers home being renovated
Jagraon, March 6
Upset over the pathetic condition in which inmates of the local leprosy home, a few NRIs yesterday started construction work of 13 new rooms for accommodating 13 families. These rooms will come up in the place of old ones in three shifts and will just be like a one room apartment along with kitchen, toilet and courtyard.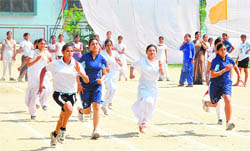 Seema adjudged best athlete
Ludhiana, March 6
Seema, a student of BA Ist year, was declared the best athlete in the 40th annual athletics meet organised at Ramgarhia Girls College, Miller Ganj, here today.


Students take part in the 100m-race during annual athletics meet in Ludhiana on Saturday. Tribune photo: Himanshu Mahajan
Bodybuilding trials today
Ludhiana,March 6
The Punjab Amateur Bodybuilding Association will organise trials for selecting the Punjab squad at Flex Bodyliners,Dugri,here tomorrow from 10 am onwards.