4 boys died in Gopalpur after falling into a 12-foot pit dug by DJB
Pit deaths: Villagers clash with cops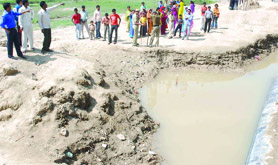 New Delhi, March 6
Demanding arrest of Delhi Jal Board officials responsible for the open sewer pit in which four children drowned last night, hundreds of Gopalpur village residents blocked GT Karnal Road in the Timarpur area of North Delhi this morning.
People surround the pit where four children accidentally fell and died on Friday night in Gopalpur village (Timarpur) on Saturday. Tribune photo: Mukesh Aggarwal

CM orders probe
New Delhi, March 6
Chief Minister Sheila Dikshit today ordered a probe into the death of four children, who accidentally fell into a pit allegedly dug by the Delhi Jal Board. "We want to inquire as to how the incident happened and how the children were allowed to go there," said Dikshit.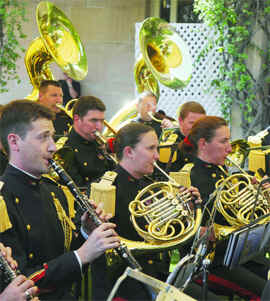 French Army band performs as a part of the first-ever International Military Music Festival at French embassy in New Delhi on Saturday. Tribune photo: Mukesh Aggarwal

Punish guilty, cries victim's mother
"Only if the pit was filled, my son would have been alive," was the recurring lament of Rajvanti, mother of 11-year-old Narender, who was among four children who died last night after falling in the pit in Gopalpur village.
Godman kidnaps woman disciple
Ghaziabad, March 6
A 40-year-old self-styled godman allegedly kidnapped a 27-year-old disciple from her house here last month, the police said today. The police registered a case on Saturday and initiated a hunt for the self-styled godman Anup Kumar Sahai, alias Swami ji, for kidnapping Priyanka Srivastava, alias Dolly, who has completed MBA and is pursuing doctoral studies.
Immigration racked busted, 2 held
New Delhi, March 6
With the arrest of two persons identified as Sanjay Singh (34) and Ashraf Khan (27), the special staff of central district has busted an immigration racket. The two allegedly used to send innocent people to Gulf countries on the pretext of providing them with jobs.
Hanuman Mandir upgraded
New Delhi, March 6
The New Delhi Municipal Corporation (NDMC) is done with its Rs 5.5-crore project of upgrading ancient Hauman Mandir in Connaught Place and Yusuf Zai market in the outer circle. The inauguration will be held on Monday by Chief Minister Sheila Dikshit.
Owners set liquor shop on fire in Gzb
Ghaziabad, March 6
A country liquor shop at Nanpur village under Garh Mukteshwar Tehsil of Ghaziabad was set on fire by some people, the police said. However, a section of people alleged that the shop was torched by its owners.
16 women, 5 kids injured in balcony collapse
New Delhi, March 6
Sixteen women and five children received severe injuries when the balcony over which they stood collapsed in the Ranhola area of west Delhi this morning.
Blast accused held
New Delhi, March 6
A key member of militant group Indian Mujahideen, suspected to be involved in serial blasts in Ahmedabad, Varanasi and Gorakhpur, was arrested by Anti-Terrorism Squad (ATS) of the Uttar Pradesh police along the border with Nepal.
Lahore bus stone-pelted
New Delhi, March 6
An unknown person pelted stones at the Delhi-Lahore bus here this morning. No one was injured.
Sports medicine workshop
New Delhi, March 6
In view of the Commonwealth Games (CWG), when the country would require expert doctors for facilitating specialised treatment to the athletes, Sir Ganga Ram Hospital would hold a workshop on "Sports Medicine and Arthroscopy" in the Capital tomorrow.