Women hold anti-liquor rally
Nainital, March 8
The Kumaon region is witnessing a spurt in anti-liquor movements these days. On Sunday, a large number of women belonging to various social organisations held a protest against the sale of alcohol from mobile vans in the Basauli area of Almora.
College felicitates Amar Singh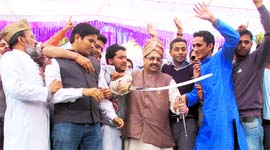 Dehradun, March 8
Third day of DAV Union Week was celebrated here today. The function began with beautiful jaunsari dance and melodious songs presentation by jaunsari folk singers Poonam Negi and Deepti Chauhan.


Amar Singh, a former Samajwadi Party leader, being felicitated at DAV College in Dehradun on Monday. A Tribune photograph
Cong flays state for ignoring Central govt projects
Roorkee, March 8
The Congress has flayed the state government for showing the least interest even in big projects by the Central government.
Cong demands Khanduri's resignation
Dehradun, March 8
Dhirendra Pratap, a member of the All-India Congress Committee (AICC), has demanded the resignation of former Uttarakhand Chief Minister BC Khanduri from the Dhumakot Assembly constituency of the Garhwal region in Uttarakhand as he has completely failed to meet the hopes and aspirations of the area people.
Drive to curb dog menace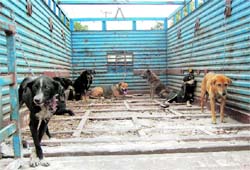 Dehradun, March 8
It seems the Dehradun Municipal Corporation (DMC) has begun paying attention to public complaints against stray dog menace, as recently DMC employees were seen struggling to control a dog on the EC Road. They caught 10 dogs from various localities of the city.


Stray dogs being taken away by the Dehradun Minicipal Corporation in Dehradun. Tribune photo: Anil P Rawat
Ex-servicemen resent Centre's apathy
Dehradun, March 8
Annoyed by the casual attitude of the Central and state governments, PBOR ex-servicemen called up a meeting at their main office here today. The meeting was held under the presidency of PTR Shamsher Singh Bisht (retd).
Minister washes hands off strike
Dehradun, March 8
Matbar Singh Kandari, State Irrigation Minister, who has been in the centre of controversy for instigating employees of the Irrigation Department to go on strike against the government order of handing over civil and maintenance work of Chilla hydro-electric project to Uttarakhand Jal Vidyut Nigam (UJVNL) has denied playing any active role in the whole gambit.
Auditions for Miss North India held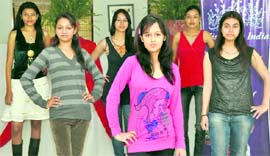 Dehradun, March 8
Auditions for the Miss North India 2010 were held at the Shiva Residency on the Rajpur Road here today. Thirtyfive contestants from the entire North India will be participating in the Miss North India 2010 contest to be held in April at Pitampura in New Delhi.

Girls participate in the Miss North India, 2010, contest in Dehradun on Monday. A Tribune photograph
Punjabis contribute for community hall
Dehradun, March 8
Members of the Punjabi Biradari Welfare Society, Dehradun, generously contributed to the community hall being built at the Rajpur Road. The community hall will be used by people from all walks of society.
Relatives, friends vandalise property of 'murderer'
Dehradun, March 8
Relatives and friends of Munir Rahmad, alias Babbal, who was murdered on Saturday, vandalised the property of the Wedding Point on the Ring Road being owned by Jitender, alias Jiti, the alleged killer of their ward.
Man throws acid on wife's face
Nainital, March 8
In a bizarre incident, a resident of Nayi Basti of Kashipur threw acid on the face of his wife following a tiff over a minor issue.