Women empowerment should begin at home: Expert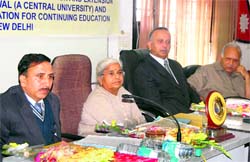 Dehradun, March 6
Prof Sugan Bhatia, president of the Indian University Association for Continuing Education (IUACE), New Delhi, said today that empowerment of women had to begin from home. "No amount of provisions in constitutions can be of help if a girl child continues to be underrated at home and denied all rights. At home, energy is vested in controlling people and the first victim is the girl child," said Dr Bhatia.

Speakers at a national seminar in Dehradun on Saturday. A Tribune photograph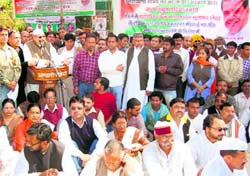 Cong slams govt over power projects
Dehradun, March 6
The Mahanagar Congress Committee, Dehradun today submitted a memorandum of its demands to the Uttarakhand Governor through the District Magistrate in protest against the state government. Congress party members had held a dharna outside the Gandhi Park here targeting the state BJP government for allegedly indulging in a scam in the name of hydroelectric project.

Pauri Garhwal MP Satpal Maharaj addresses protesters in Dehradun on Saturday. A Tribune photograph

BJP protests rising inflation
Dehradun, March 6
Resentment and anguish of BJP workers broke out in the city here today in support of their demands. The agitated protesters staged a dharna at Pandit Deen Dayal Park, Gandhi Road, while demanding the extension of industrial packages in the state. They shouted slogans against the inflationary budgeting and carefree attitude of the Centre.
Contractor shot dead over property dispute
Accused, victim were notorious criminals, says police
Dehradun, March 6
A contractor, in his early 40s, was allegedly shot dead over a property dispute some distance away from his residence in Nathanpur under the Nehru Colony police station area here this morning. He was shifted to the Doon Hospital where he was declared brought dead, said the police.
HelpAge India team visits Mussoorie
Mussoorie, March 6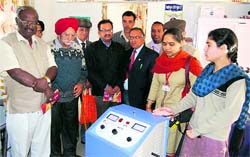 An eight-member HelpAge India team was on a visit at the Physiotherapy Centre being run in association with the Senior Citizen Forum, Mussoorie, at Library Gurdwara in Mussoorie. According to HelpAge India Deputy Director programmes Dr Aapga Singh, the team consisting of S Das, Yatendar Yadav (Hyderabad) Surendar Chauhan (Solan), Dibyendu Gosh (Kolkotta) PP Singh (Lucknow), SK Sharma (Bhopal) and Pankaj Sharma (Dehradun) were on an exposure visit .

HelpAge India team receives information by Dr Vijeta Malhotra in Mussoorie on Saturday. Photo by Ajay Ramola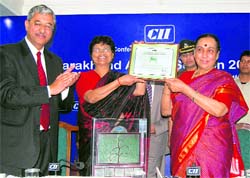 Governor awards Bisht at CII function
Dehradun, March 6
Governor of Uttrakhand Margaret Alva awarded Dr Harshwanti Bisht for being selected at the award function of the Confederation of Indian Industries (CII), for the theme of Robust Inclusive Green Growth. On the occasion of the 9th annual function of the Confederation of Indian Industries (CII), North region, CII Annual Green Award was conducted here today.

Uttarakhand Governor Margaret Alva gives CII Green Building award to Harshwanti Bisht at a function in Dehradun on Saturday. A Tribune photograph

Girl crushed to death by train
Dehradun, March 6
A 24-year-old-girl was crushed to death by a moving train near a railway gate in Jogiwala here this afternoon. The police said she was spotted at 12:15 pm roaming around the railway track and supposedly came in front of the train that comes at 12:30 pm.
GOC-in-C visits Doon Cantt
Dehradun, March 6
General Officer Commanding-in-Chief, Central Command Lucknow, Lt Gen VK Ahluwalia (AVSM, YSM, VSM) today visited Dehradun Cantonment. Sub-Area Commander Brig AK Siwach received him at Jolly Grant Airport. He also introduced him to other officers. The GOC-in-C also went to important places in Dehradun Cantonement.