Moga sex scandal
CBI asks SSPs to maintain record of accused
Moga, March 9
The Central Bureau of Investigation (CBI) has written letters to the SSPs of Chandigarh, Amritsar, Moga, Ferozepur, Ludhiana and Jalandhar to make entries in the relevant record/registers of all those allegedly involved in the infamous Moga sex scandal.
After 25 yrs, Rajindra College to hold convocation
Bathinda, March 9
Reviving its old culture of holding convocation, the Government Rajindra College, Bathinda, is going to hold convocation on March 20 after a long gap of around 25 years. This practice was discontinued during the turmoil caused by militancy.
Allotment of liquor vends
New policy may make booze lovers pay more
Bathinda, March 9
Beware, Bacchus lovers! Get ready to burn a big hole in your pocket as the Punjab excise and taxation department is apparently going to allot liquor vends in various pockets on a monopoly basis, that too, without even fixing the maximum limit of the sale price of bottles.
Drug peddling Accused sent to JIC
Bathinda, March 9
Anticipating their high links in the trade of drug peddling, Bathinda police today sent all the five accused, who were recently arrested in the possession of six kg smack, to the Joint Interrogation Centre (JIC), Amritsar.
Roof caves in, 12 hurt
Bathinda, March 9
Nearly 12 persons sustained minor injuries when the roof of a house caved in at Subhash Basti, here this evening. Volunteers of Sahara Jan Seva, who rushed to the spot, informed that only two injured were admitted to the Civil Hospital, here, while others were given first aid treatment on the spot.
Govt staff go on mass CL
Bathinda, March 9
Accusing the state government for adopting "step-motherly" attitude towards the employees, activists of the Punjab State Ministerial Services Union (PSMSU) today observed a mass casual leave and went for a state-wide rally at Ludhiana.
Unbundling of PSEB
TSU to hold rally on Monday
Abohar, March 9
The Technical Services Union (TSU) has decided to organise a rally at Jagraon on March 15 along with other 21 organisations against the alleged underhand moves aimed at unbundling of the Punjab State Electricity Board (PSEB).
Two minor girls killed in mishaps
Abohar, March 9
Two minor girls were killed in separate accidents today. Sources said that Komal (5) was crushed to death by a three-wheeler when she was crossing the Abohar-Malout road to return home in Jammu Basti after school hours. She was admitted to the Government Primary School located in Anand Nagari last week.
Mazdoor Mukti Morcha stages dharna, wants plots for houses
Mansa, March 9
Mazdoor Mukti Morcha (MMM) started an indefinite dharna in front of the Deputy Commissioner (DC) office Mansa to get the implementation of the promise that the administration made on May 19, 2009 to provide plots to labourers for the construction of their houses.
Mamata urged to improve basic amenities in trains
Abohar, March 9
Punjab Pradesh Nationalist Congress Party has urged the Railway Minister Mamta Banerjee to improve standard of basic amenities in the trains running on the New Delhi-Abohar-Sriganganagar and Haridwar-Abohar-Sriganganagar routes.
Finally, a park for Barnala residents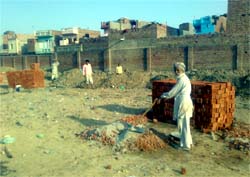 Barnala, March 9
There is something to cheer about for the residents of Barnala as this township would have its first park where the locals would keep themselves amused and relieved. Even today while the Municipal Council is constructing the park, the residents have to walk along the roadside for amusement and relaxation which in no way serve these purpose.


Construction work in progress at the park in Barnala. A Tribune photograph