Govt staff go on 5-day strike
Ravi Krishnan Khajuria
Tribune News Service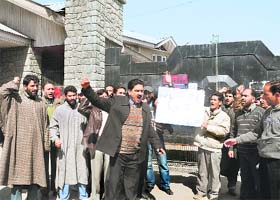 State government employees shout slogans on the first day of their five-day strike in Srinagar on Tuesday. Photo: Amin War
Jammu, March 9
With Budget session on, normal work in all government offices, including PSUs, across the state was affected as 4.50 lakh state government employees went on a five-day strike today. The Joint Consultative Committee (JCC), spearheading the agitation, had given the strike call.
The state government employees have been demanding the benefits of the Sixth Pay Commission, including arrears since January 1, 2006, release of cost of living allowance (COLA), enhancing retirement age from 58 to 60 years and the regularisation of services of daily wage workers and contractual employees.
Health care services in various hospitals in the winter capital, including the Government Medical College and Hospital, were partially affected. Out patient departments (OPDs) did not function, causing hardships to patients. Hundreds of patients and their attendants from remote places had to face a tough time because of the strike. However, emergency services in all hospitals were exempted from the purview of the strike.
Similarly, employees of the Consumer Affairs and Public Distribution (CAPD) Department, Power Development Department (PDD), Public Works
Department (PWD), Public Health Engineering (PHE) and Drainage, Roads and Buildings Department by and large stayed away from work.
The JCC, a conglomerate of several employees' unions, had rejected an offer of the government to start another round of parleys to resolve the impasse.
Hundreds of employees from different government departments held a protest at Town Hall here. It may be stated here that parleys between the government and the employees' representatives in the past few days had failed to break the ice. However, employees at the Civil Secretariat attended office and did not participate in the strike.
Meanwhile, JCC provincial president Jaswant Singh accused the government of turning a Nelson's eye towards the genuine issues of the striking employees.
"The government so far has failed to honour its own decision following an agreement between the JCC and a Cabinet subcommittee on February 18 and August 19 last year," said Jaswant.
Had there been a financial crunch, a reason cited before us for not releasing the arrears, how the government could have hiked the salaries of ministers and legislators, he asked. Abdul Qayoom Wani, another JCC leader, charged the government with not comprehending the seriousness of the issue.
If the government kept on treating the employees like this, we would be forced to go on an indefinite strike, he said. It may be stated here that the government had approached the JCC leaders through two senior bureaucrats Khurshid Ahmad Ganai and Basharat Ahmed Dar.
Meanwhile, another faction of employees, Employees' Joint Action Committee (EJAC), has given a three-day statewide strike call from March 11.