COLUMNS

THIS ABOVE ALL
TELEPROMPT
GOOD MOTORING
LIFE'S LESSONS

FOR CHILDREN

CROSSWORD
ROOTS
RHYME TIME

Earlier Feature
TELEVISTA

AUDIO SCAN
Entertainers or sex slaves?
Many young Punjabi girls are being forced into prostitution in the garb of working as dancers or entertainers, reports Riva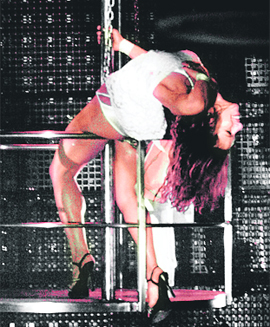 Her dark gloomy eyes reflect her shadowy past, unable to hide her shame and pain. Sitting in a corner of a dark room, Rashmi (name changed) prefers this darkness of a dingy room to bright neon lights and posh hotel rooms. At the young age of 17, Rashmi has already experienced the seamier side of life that lies behind this glam world. Her nightmarish journey into this murky world began in cultured, air-conditioned rooms of five-star hotels and culminated into this innocent teenager becoming as a prostitute. Women's trafficking in Punjab is not unheard of. While many young girls from other parts are sneaked into the state to be employed as sex slaves, a large number of Punjabi girls, in the garb of working as performers, are being herded across the borders to do the same job in metropolitan cities of India and Gulf countries like Dubai.
At nine, Shagun has become the first Indian to be invited by Princess Stephanie of Monaco to judge the International Circus Festival after winning a global art competition, says Nagmani
Life's a circus for Shagun
Once she's over with her homework, nine-year-old Shagun Aggarwal picks up her drawing book, flicks open her water colours and gets lost in the world of art till dinner time. Make no mistake. Shagun is not into any kiddie pursuit of art. She's is one of the six global children who were invited by the Princess of Monaco to judge the performances of circus artistes from across the world.