Research key to economic growth, says Pranab
Confers degrees on 514 students of National Institute of Technology
Bhanu P Lohumi
Tribune News Service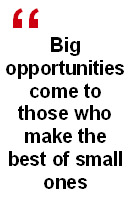 Kurukshetra, March 20
Research and transfer of technology are the key to economic growth and increasing productivity in all important sectors like agriculture, industry and services is imperative for balanced development of the nation and to ensure that benefits of development percolate to the people at the lowest level. This was stated by Union Finance Minister Pranab Mukherjee here today.
Delivering his address at the seventh convocation of the National Institute of Technology (NIT), Kurukshetra, he exhorted students to develop scientific temperament and acquire latest technology through scientific process to compete in the present era of globalisation.
"The degrees are not permits for work and employment but merely a testimony to take decisions and open the doors for emerging opportunities," he said, adding that knowledge they gain there would enable them in facing the future challenges with confidence.
He said when India was fast recovering from recession, it was confronted with a problem of low-food productivity, but there was growth in the merchandise sector and as a consequence, the economy was better than it was one year ago.
Stressing that economic growth was a powerful instrument of development, he said the daunting task before the country was to increase the gross domestic production (GDP) and ensuring food security.
Listing character, confidence, competence, determination, devotion and discipline as virtues of a successful person, Mukherjee said discipline was the most essential constituent and urged the students to be truthful, righteous and remain firm on their conviction.
Emphasising that big opportunities come to those who make the best of small ones, Mukherjee said no power could beat a person who was confident enough to fight the hardships.
He said as President Pratiba Patil had said this decade was decade of innovation but innovation came from human experiences of process and products and as such technological activities should be expanded to reach the end-users.
He was also conferred DLitt degree (Honoris Causa) by Director (NIT) MN Bandopadhyay for his competence and excellence in personal and professional fields and commendable achievement and contribution in the national and international arena, especially in the fields of teaching, journalism, diplomacy and administration.
As many as 514 students, including 302 BTech, 135 MTech, 58 MBA and 19 PhD students were conferred degrees at the convocation.