M A I N N E W S
Siddiquis turn heat on Shoaib
Release 'marriage' certificate to media
Suresh Dharur
Tribune News Service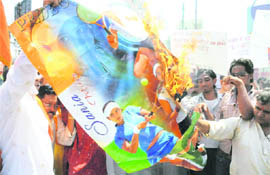 VHP activists burn Sania Mirza's poster in Bhopal on Friday. — PTI
Hyderabad, April 2
The cross-border romance between Sania Mirza and Shoaib Malik took a new twist today with Ayesha Siddiqui, a Hyderabad girl claiming to be the first wife of the Pakistani cricketer, releasing the proof of their marriage performed way back in 2002 and accusing him of lying.
The family of Ayesha released copies of Nikahnama (marriage certificate) to the media in an attempt to corner the former Pakistan captain ahead of his wedding with Indian tennis star.
As per the Nikahnama in Urdu, emailed to the media, the wedding was performed by Hafiz Mohamamd Khalid and 'mehar' was fixed at Rs 500. The name of the bride is mentioned as Maha Siddiqui, which Ayesha says, is her original name.
It contains the signatures of both the bride and bridegroom whose residential address was mentioned as A-4, Tariq Colony, Sialkot.
"We have released the marriage certificate to expose the lie being spread by Shoaib and his family. What I want from him is the public acknowledgement of this fact and a public divorce," Ayesha told a TV channel.
Ayesha's father MA Siddiqui claimed that the cricketer had exchanged marriage vows over telephone and that Nikah took place on June 3, 2002. "He had married my daughter and ditched her later. I want divorce for my daughter. According to Islamic law, my daughter cannot remarry if she does not get the divorce," Siddiqui said. Ayesha's mother Farisa Siddiqui lashed out at Sania saying she was preparing to marry Malik despite knowing about what happened to Ayesha.
However, Shoaib had clarified in the past that he was only engaged to Ayesha and that the marriage was called off because of differences between the two families. Ayesha's family had hosted a dinner for Pakistani cricket team when it visited the city in 2005.
Soon after, Shoaib walked out of the relationship, accusing Ayesha's family of cheating him by sending him the photograph of another girl before the marriage.
Lashing out at the cricketer, Ayesha said: "I have all the necessary documents to prove that Shoaib Malik is my husband. We have stayed away from each other to pursue our respective careers. If he wants to marry anyone, he should first publicly divorce me."
On Facebook, Pakistanis welcome 'Sania bhabhi'

Islamabad, April 2
Pakistanis are going gaga over the upcoming Sania Mirza-Shoaib Malik wedding, with some ardent fans creating a Facebook page to welcome "Sania Bhabhi".
"We welcome bhabhi Sania Mirza to Pakistan" was created on the social networking website shortly after Sania and Shoaib confirmed that they were getting married on April 15. Most fans who posted on the page took pride in the fact that Sania Mirza would soon be Pakistan's "bahu". Some others, however, regretted that the couple would be staying in Dubai after their marriage.
"Nice couple. May Allah bless them," wrote Fareeha Akhtar, a fan of the page. Links to news items and pictures of Sania and Shoaib have been posted on the page.
Fans were asked to refrain from posting "offensive" comments. "Dear fans. Please do not write offensive or derogatory comments on this page. Sania and Shoaib are Pakistan's pride and we must respect them," wrote the creator of the page. So far over 300 Pakistanis have joined in to welcome "Sania bhabhi" to Pakistan.
Elsewhere in the blogosphere, Pakistanis are wondering if Sania would play for Pakistan or change her surname to "Malik" while some are betting on the longevity of the marriage. — PTI
Sena criticises Sania move
Mumbai: Echoing Pakistani officials, Shiv Sena supremo Bal Thackeray said tennis star Sania Mirza should not represent India after her marriage to Pakistani cricketer Shoaib Malik. "She will belong to her in-laws' house after her marriage," the editorial in party mouthpiece Saamna attributed this to Thackeray. According to the Sena chief, Sania would not remain an Indian after getting married to a Pakistani. "Her heart is not Indian or it would not have beaten for a Pakistani," the editorial said. — TNS