PUNJAB
HARYANA
JAMMU & KASHMIR
HIMACHAL
REGIONAL BRIEFS
NATION
OPINIONS
LETTERS
BUSINESS
SPORTS
WORLD
Saturday, April 3, 2010, Chandigarh, India
Updated at 3:00 am (IST)

Terror on tracks: Ultras target Kashmir rail link
Blow up Baramulla-Qazigund line; HM hand suspected; no casualties; 2 trains cancelled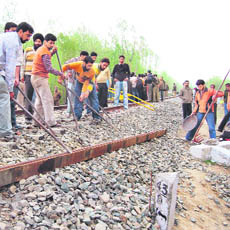 Kakpora (Pulwama) April 2
For the first time since the start of railway services in the Kashmir valley, militants blew up part of the Baramulla-Qazigund line near the Kakpora railway station in Pulwama district late last night, disrupting traffic for several hours.

DERAILING PEACE: Northern Railway workers repairing the railway track near Galbaugh in south Kashmir's Pulwama district. The track was damaged in an IED blast last night. Tribune photo: Amin War

CAST YOUR VOTE
Should politicians be allowed to withdraw so-called vendetta cases against MLAs?

EDUCATION
JOBS & CAREERS
HEALTH & FITNESS
SCIENCE & TECHNOLOGY
REAL ESTATE
SPORTS
US confident of India passing N-liability Bill
As Prime Minister Manmohan Singh struggles with opposition in India over nuclear liability legislation, a US official has said it is up to the Singh government to figure out a way forward, but that he is confident about the commitment in New Delhi to pass the Bill.
Suspension of hydel projects: U'khand govt to move court
Cites acute shortage, demands 1,000 MW free power in return
Dehradun, April 2
The issue of hydel power projects in Uttarakhand is snowballing into a major controversy with the BJP Government in the state planning to move court and challenge the Centre's decision to suspend Pala Maneri (480 MW) and Bhaironghati (381 MW) projects on environmental grounds.
Siddiquis turn heat on Shoaib
Release 'marriage' certificate to media
Hyderabad, April 2
The cross-border romance between Sania Mirza and Shoaib Malik took a new twist today with Ayesha Siddiqui, a Hyderabad girl claiming to be the first wife of the Pakistani cricketer, releasing the proof of their marriage performed way back in 2002 and accusing him of lying.


On Facebook, Pakistanis welcome 'Sania bhabhi'

Sena criticises Sania move
UNION BUDGET 2010-11
RAILWAY BUDGET
2010-11
NDA 60 Glorious Years
1857 The First Challenge
E - Revolution 2005:
A Two-day IT conclave
Assembly Elections - 2005
Turbans
Chandigarh is 50
125 Years of The Tribune
India: The Tasks Ahead
India at Sixty
A Tribune Supplement
EARLIER FEATURES
On Sundays
On Saturdays

Farisha Siddiqui (L) and M A Sddiqui (R), parents of Ayesha Siddiqui, address a press conference in Hyderabad on Friday and (right) a copy of the marriage certificate released by them. — PTI
Ruchika Molestation
Nod to strip Rathore of police medal
New Delhi, April 2
Disgraced Haryana DGP SPS Rathore, recently convicted for molesting Panchkula teenager Ruchika Girhotra, is set to lose the police medal conferred upon him for meritorious service. President Pratibha Patil has given her assent to the Home Ministry reference in this regard.


UAE COURT VERDICT
'50 of us were tortured, 17 confessed...'
Lucky to be back home, Jalandhar youth narrates Sharjah horror
Jalandhar, April 2
Arvinder Singh cannot forget the dreadful night in January last year when the Sharjah Police swooped down on him and 49 other Indian youths while they were sleeping. They were taken into custody and brutally tortured without saying what wrong they had committed.
Education becomes a basic right
April 2, 2010

For now, retire at 58 in Punjab
April 1, 2010

5 get death for 'honour killing'
March 31, 2010
India, US agree on N-reprocessing
March 30, 2010
Modi grilling a big step forward, says SIT chief
March 29, 2010

Modi grilled by SIT
March 28, 2010

Advani incited sevaks to demolish Babri: Witness
March 27, 2010
SC okays 4 pc job quota for Muslims in AP
March 26, 2010
Punjab takes poor children for a ride
March 25, 2010
Maoists disrupt life, kill 2, blast tracks
March 24, 2010