Kumaon protests water shortage
Haldwani, April 2
Kumaon continues to be rocked by local-level protests on account of water woes. People of Bithoria and Lohriasal localities near Haldwani staged a protest yesterday against the damaged water supply pipeline.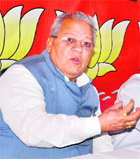 BJP to focus on curbing factionalism: Mishra
Haridwar, April 2
After facing the poll debacle in consecutive two parliamentary elections and the internal chaos within the party, the Bharatiya Janata Party (BJP) has set eyes on the next parliamentary elections buoyant by the change in the leadership helm within the party.


Rajya Sabha MP and vice-president of the BJP Kalraj Mishra in Haridwar on Friday. Tribune photo: Rameshwar Gaur
More bus stops to be dismantled
Dehradun, April 2
Congressmen enraged over dismantling of bus stop near its headquarters by the Dehradun Municipal Corporation (DMC) team during a drive against illegal hoardings yesterday made Mayor Vinod Chamoli to promise to make a new one in the area. The move also resulted in making Mayor to order marking of bus stops to be dismantled and retained in the next 15 days.
Centre biased, says Pant
Pitthoragarh, April 2
If the Centre wants to maintain a free flow and purity of the Ganga from Gaumukh, where it originates, to Haridwar, it should erect a parallel river flow of the Ganga up to Haridwar and should leave a portion of water for hydro projects. This proposal was made by Prakash Pant, Uttarakhand Water Resources Minister, at a press conference here today.
CPI (ML), BJP hold protests
Haldwani, April 2
Raising their voice against spiralling prices, the activists of the Communist Party of India (Marxist-Leninist) sat on a dharna at the Buddha Park here on Friday.The protest was held under the leadership of the Uttarakhand in charge of the CPI(ML) Dr Raja Bahuguna and senior farmer leader Bahadur Jangi.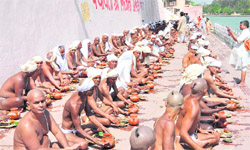 Hundreds get into Naga fold
Haridwar, April 2
While millions of people taking holy dip in the Maha Kumbh make it the greatest fair on the earth, religious and spiritual rituals lend it a unique identity.



Aspirants perform a ritual to join the Naga camp in Haridwar on Friday. Tribune photo: Rameshwar Gaur
Reconsider hydro power projects in Himalayan region: Magsaysay awardee
Dehradun, April 2
In the aftermath of center's decision to stop construction of Pala Maneri and Bhairoghati projects on River Bhagirathi in Uttarakhand, Ramon Magsaysay Award winner and an eminent environmentalist Chandi Prasad Bhatt has sought re-consideration for all proposed and under-construction hydro-power projects in the state.
Cops give farewell to Kumbh veteran
Haridwar, April 2
This Maha Kumbh has had many veteran officers who have played an important role in successful conduct of Kumbhs in Allahabad, Ujjain, Nasik and Haridwar.One such police officer is Rajendra Prasad Tripathi, popularly known as RPT. He completed his service in the police force and was given a farewell by the mela police. Tripathi had started his police job from the Kumbh city Prayag and spent the fag end of his service in another Kumbh city, Haridwar.
Armed forces' recruitment rallies
Dehradun, April 2
Recruitment rallies to recruit youth in the Army, Navy and Air Force would be held at various places in the state. Pauri Garhwal MP Satpal Maharaj, who is also a member of the standing committee on defence, said Union Defence Minister AK Anthony had informed him about holding of the recruitment rallies for the armed forces in the state.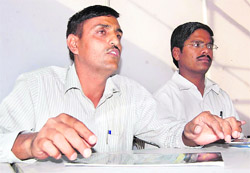 Trade show begins
Dehradun, April 2
On completing 10 years in organising events and trade fairs, Real Host, in collaboration with Events Paradise, today started Uttaranchal Trade Mahotsav-2010 at the Parade Ground that will be on till April 11. The mahotsav will showcase daily cultural programmes, fashion shows, display and sale of electric goods as well as IT consumer products.

Sanjay Singh of Real Host addresses a press conference in Dehradun on Friday. A Tribune photograph
BJP state council meeting on April 5
Dehradun, April 2
Uttarakhand BJP state council and executive meetings will be held in Dehradun on April 5 and 6, respectively. To be held under the presidentship of Bisan Singh Chufal, party's parliamentary board leader and former Deputy Prime Minister LK Advani, BJP's national organisational secretary Saudan Singh, vice-president Bhagat Singh Koshiyari and state BJP in charge Krishna Murari Moghe will be attending the meetings.
UKD seeks 5,000 MW free power
Dehradun, April 2
Uttarakhand Kranti Dal spokesperson Virender Mohan Uttarakhandi said the party was never in favour of big projects but duly backed small and medium projects, which would accentuate the power generation in the state. It also demanded centre to provide 5,000 MW free electricity and industrial package of Rs 10,000 crore to the state to make up for its land covered with 65 per cent forest area.