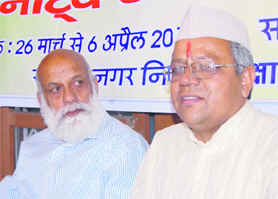 Natya Parishad to celebrate Vishwa Rangmanch Diwas
Dehradun, March 24
To commemorate the Vishwa Rangmanch Diwas on March 27, the Uttarakhand Natya Parishad in association with Sanskriti Vibhag is organising a 10-day-long dramatic presentations from March 26 onwards.
Roshan Dhasmana and SP Mamgai of the Garhwal Sabha address a press conference in Dehradun on Wednesday. A Tribune photograph

Punjabi Sangathan to celebrate Baisakhi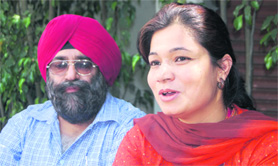 Dehradun, March 24
The Uttarakhand Punjabi Sangathan has announced its plans to hold a cultural celebration on Baisakhi and also informed about a newly floated women's wing headed by singer and artiste Soniya Anand.
Soniya Anand, president, women's wing of the Uttarakhand Punjabi Sangathan, addresses a press conference in Dehradun on Wednesday. A Tribune photograph

Social Welfare staff told to keep record of applications
Nainital, March 24
District Magistrate Shailesh Bagauli has ordered officials of the Social Welfare Department to ensure a proper registration of applications. At a meeting held to evaluate the performance of the department at Bhimtal yesterday, Bagauli asked the officials to ensure that a proper record of applications was maintained along with date-wise entry of the applications. The officials have been asked to provide benefits to the applicants of various schemes on a first-come-first-serve basis and also give priority to the applicants hailing from remote areas.
IT Park witnesses slow pace of work
7 companies get show-cause notice for delay
Dehradun, March 24
Only three industries have started their operations at the IT Park, Dehradun, with as many as 225 local persons getting employment with the park. Responding to a query by BJP MLA Ganesh Joshi, IT Minister Bansidhar Bhagat said while a total of 19 companies had been allotted land at the IT Park, only three had started their operations.
Power project invites natural disaster in Aglar valley
Mussoorie, March 24
The construction of road and illegal blasting through dynamite being carried out by a private company, Aglar Power Project Ltd, on the Aglar river valley in Jaunpur block has led to endangering the forest and loosening of the soil to extreme levels.
Harish Rawat condemns lathi charge on SSB guerillas
Seeks their absorption into regular force
Dehradun, March 24
Union Minister of State for Labour and Employment Harish Rawat condemning the brutal lathi charge on the Sahastra Seema Bal (SSB) guerillas in yesterday Dehradun has asked the state as well as the Union government to utilise the services of these disciplined force.
Industrial package: Pushkar Dhami slams Centre
Dehradun, March 24
Pushkar Singh Dhami, vice-president of the Urban Development Monitoring Authority, has accused the Central government of depriving Uttarakhand of industrial package.
Sabha protests non-payment of sugarcane dues
Nainital, March 24
Members of the All-India Kisan Sabha staged a dharna at the Collectorate in Rudrapur yesterday to protest against the delay in the payment of dues of sugarcane crop by mills. They also sought subsidies in diesel and fertilisers.
Govt to launch job generation programmes
Dehradun, March 24
With an aim to provide better employment opportunities to rural youth of Uttarakhand, the state government will start employment generation programmes soon.
Water sources drying up: Pant
Pitthoragarh, March 24
Out of total 39,967 habitations in Uttarakhand, 783 habitations, including 606 in rural areas, are dry despite government efforts to provide water to these as there is no water source near these habitations.
Property worth lakhs destroyed in fire
Dehradun, March 24
Property reportedly worth lakhs destroyed in a fire that broke out in the house of a mechanic last night at Akashdeep Colony in Basant Vihar. Short-circuit has been considered the possible reason behind the fire.
Refusal to oblige boozers costs tea stall boy life
Nainital, March 24
In a bizarre incident, a worker in a tea stall was battered to death for refusing to give a tumbler to some persons who wanted to consume alcohol at the shop where he was employed. The incident took place in the Ranibagh area of Kathgodam yesterday.
Cong men burn BJP MLAs' effigies
Nainital, March 24
Keeping up the tempo of protests against the state government led by Chief Minister Ramesh Pokhariyal Nishank in Udham Singh Nagar district, Congress supporters burnt effigies of all 36 BJP legislators at Dineshpur yesterday.
3-day yoga camp from March 26
Dehradun, March 24
Under the aegis of Patanjali Yogpeeth, Haridwar, Shiv Mandir Managing Samiti (Dharmpur), will organise a three-day yoga camp on the premises of the temple from March 26. The camp will be free of cost and the classes will begin from 5.30 am.
13-year-old elephant dies
Dehradun, March 24
Thirteen-year-old elephant died in the Sonawadi area of the Corbett region today. Corbett sources denied foul play and attributed the death of the pachyderm to struggle between the elephant and a tiger.
Woman accuses ex-husband of rape
Dehradun, March 24
A divorced woman complained to the police alleging that her former husband and brother-in-law used to beat her up and forcibly have physical relations with her at her father's residence in Rishikesh.
2 hurt as refrigerator bursts
Nainital, March 24
A resident of Halduchaur sustained burn injuries, along with her daughter, when their refrigerator burst following leakage of ammonia gas from its compressor.
Nehrugram residents' demand
Dehradun, March 24
The Gram Vikas Sanstha Garhwali Colony, Nehrugram, has been consistently demanding separation from Gram Raipur as revenue village. Once again, residents of the colony got together under the leadership of Subhash Bharat and decided to begin this campaign vigorously.