Another property dealer shot at
Dehradun, March 20
In yet another property dispute, a property dealer was allegedly shot at by another property dealer and his men in Subhas Nagar locality here last night. The victim, who is in a critical situation, was taken to the Doon Hospital from where he was referred to the Combined Medical Institute (CMI) Hospital.
Even Koshiyari was surprised at his elevation
Dehradun, March 20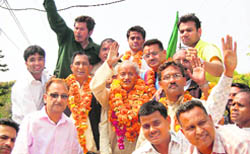 Newly appointed BJP vice-president and Rajya Sabha member from Uttarakhand Bhagat Singh Koshiyari said his appointment to the central BJP team came as a big surprise for him and was beyond his imagination.




Bhagat Singh Koshiyari being welcomed on his return to Dehradun on Saturday. A Tribune photograph
Women know little about domestic cells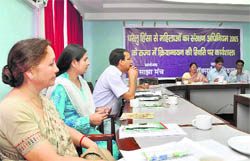 Dehradun, March 20
Since the creation of the domestic cells under the Prevention of Domestic Violence Act, 2005, three years back very few women are coming to these cells with their complaints.



Participants at a workshop on domestic violence organised by the Sajha Manch and Oxfam India in Dehradun on Saturday. A Tribune photograph
'Jail admn taking money from prisoners, visitors'
Dehradun, March 20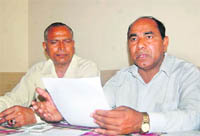 Social worker and president of the Gramin Vikas Samiti accused the jail administration in Dehradun of fleecing money from prisoners as well as visitors. Addressing a press conference, Kunwar Singh alleged that when friends and family of the prisoners came to meet their wards, they gave them fruits and money, but after they left, the jail authorities snatched that money from the prisoners.
Kunwar Singh, a social worker, addresses mediapersons in Dehradun on Saturday. A Tribune photograph
Electric poles removed from river bed
Dehradun, March 20
The matter of wrongfully and illegally placed seven poles in the middle of the Bindal river took a new twist on Thursday when the Dehradun Municipal Corporation (DMC) removed not only these seven poles, but also five poles near Gurukul School.
Fund crunch hits annual plantation drive
Dehradun, March 20
Fund crunch seems to be hitting the forestry annual plantation drive hard in Uttarakhand. While on an average 20,000 to 25,000 hectares are being covered during plantations every year by the state Forest Department, the target this year could not well exceed the 5,000 hectares mark.
Police to tighten noose on fraud babas
Dehradun, March 20
Claiming to solve your personal and family problems with the way of witchcraft, the centres being operated by so-called tantriks, babas and sadhus are turning out to be in thick of criminal activities in Dehradun.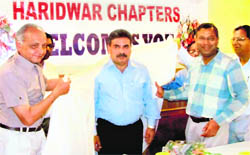 Vimal Kumar Goyal felicitated
Haridwar, March 20
A felicitation function was organised today in the Integrated Industrial state in SIDCUL in honour of noted industrialist and social activist Vimal Kumar Goyal for his appointment as a member of the State Planning Commission.
Vimal Kumar Goyal being felicitated on his induction as member of the Uttarakhand Planning Commission. Tribune photo: Rameshwar Gaur
Club gives blankets to needy children
Dehradun, March 20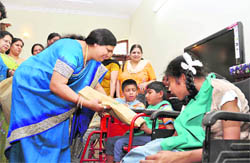 The women's club of the State Bank of India distributed blankets, bedsheets, towels and fruits to poor and needy children of Cheshire Home at their guest house in Indira Nagar here today. On the occasion, Lily Pant, president of the State Bank Ladies Club (Delhi Circle), was invited as the chief guest who presented the items to the kids.
Children from Cheshire Home being given gifts by members of the State Bank of India Ladies Club at a function in Dehradun on Saturday. A Tribune photograph
35 statehood agitators get cheques
Mussoorie, March 20
Pension cheques worth Rs 12,000 were distributed to 35 persons who had played an active role in the Uttarakhand statehood agitation. These were distributed by Rajya Andolankari Kalyan Parishad president Ravinder Jugran at a ceremony at Kacheri premises.