| | |
| --- | --- |
| A group of women walk through a mustard field on the outskirts of Srinagar on Friday. — PTI | To decongest the ever-busy Bikram Chowk in Jammu, the traffic police has put up a barricade in the middle of the road for diversion. Photo: Inderjeet Singh |
Army's initiative brings joy to ex-soldier
Was wounded in operation against LTTE in Jaffna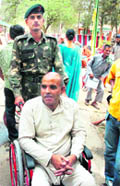 Samba, April 16
A wheelchair worth Rs 3,000 to Rs 5,000 may not mean much for many people, but for former Lance Naik Tilak Raj, who was injured in an operation against the LTTE in Jaffna, it means a lot. It becomes even more special as the former soldier's family lives on his monthly pension of Rs 5,000, a major chunk of which goes towards the education of his three children, including two who are doing graduation. Surprisingly, he has got his first strong wheelchair in about two decades.

Tilak Raj, a former Lance Naik who was rendered physically challenged during an operation against the LTTE in Jaffna, was a happy man as he was given a wheelchair by the Army in Samba on Friday. Tribune photo: Anand Sharma
Life paralysed in Sopore for fourth day
Srinagar, April 16
Normal life continued to be paralysed in Sopore for the fourth consecutive day in protest against the death of a youth, Zubair Ahmed, a few day ago.
Childline unites woman with husband
She along with 2 kids had left home after a domestic feud
Jammu, April 16
The Childline, Jammu, united a woman, who along with her two children had run away from her house in Srinagar, with her husband here today.
Dissidents launch campaign against PCC chief
Jammu, April 16
The pro-Ghulam Nabi Azad faction in the PCC organised "Baisakhi milan" yesterday to provide an opportunity to "dissidents" to air their grievances against the party leadership.
MC team seizes 30 kg polythene bags
Jammu, April 16
The Enforcement Wing of the Jammu Municipal Corporation (MC) seized 30 kg of polythene carry bags from shopkeepers, vendors and other outlets during a drive here today. It also charged Rs 5,000 as fine from defaulters on the spot.
Former ultra's wife jumps before CM's cavalcade
Jammu, April 16
Fed up of visiting government offices to get a job or monetary relief, a woman attempted to commit suicide by coming in front of the Chief Minister's cavalcade in the Civil Secretariat this evening.
Civil defence educates masses
Jammu, April 16
To educate the masses about readiness during a disaster-like situation, the Civil Defence Organisation organized a 3-day-long awareness camp during the Baisakhi Festival on the banks of the Devika rivulet in Udhampur.
Summer timings in Jammu division
Jammu, April 16
Divisional Commissioner, Jammu, Pawan Kotwal has notified the summer working hours in state government offices and educational institutions in various districts of Jammu division with effect from May 1 to September 30.
Residents decry water scarcity
Jammu, April 16
The residents of various localities expressed resentment against the Public Health and Engineering Department (PHE) for being ineffective to cater to need of potable water facility of their localities.
Separatists decry Army Chief's views
Srinagar, April 16
Mirwaiz Umar Farooq, chairman of the Hurriyat Conference, here today reacted sharply to the views of the Army Chief, Gen VK Singh, on the dilution of the Armed Forces Special Powers Act (AFSPA) and described it as shocking.
SCs exclusion from Inter-district Recruitment Bill
BJP to devise new strategy
Jammu, April 16
After facing embarrassment in the Assembly on the Inter-district Recruitment Bill, the BJP will devise a fresh strategy at its two- state executive committee meeting to be held on April 17 and 18.
Tree cutting, timber smuggling unabated
Srinagar, April 16
Famous for its lush forests, the Kashmir valley is slowly loosing its green cover as there is no stopping the haphazard and illegal cutting of trees and timber smuggling. The green gold in Kashmir is openly being plundered by vested interests and the authorities seem to have turned a blind eye to the forests.
Two bank officials chargesheeted
Srinagar, April 16
The Crime Branch, Kashmir, has presented a chargesheet against two officials of the Ganderbal branch of Jammu and Kashmir State Cooperative Bank before the court of Chief Judicial Magistrate, Srinagar.