Hundreds of trees on govt land axed in Rajouri
Ashutosh Sharma
Tribune News Service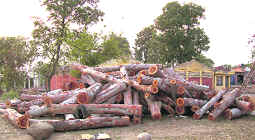 Logs lying on the premises of a resin factory at Kathanu in Sunder Bani. Photo by the writer

Rajouri, April 17
At a time when stress is being laid on planting more and more trees to check global warming, hundreds of fully grown trees have been cut on government land in Kathanu, near Sunder Bani and Fatehpur, on the Thanamandi road in Rajouri and that too without the permission of the district administration. More trees are likely to face the axe.
The tracts of land on which trees have reportedly been cut have been sold by Jammu and Kashmir Industries Ltd (JKI) to the Jammu and Kashmir Armed Police.
While the buildings housing resin factories - that have remained closed for several years - have been dismantled and nearly 500 grown up trees, including 384 eucalyptuses, besides other trees have been cut in Sunder Bani alone.
When this correspondent visited the site, there were hundreds of stubs, besides stockpiles of logs on the premises of the factory, which had almost been demolished.
People living in the vicinity said the trees were being cut for the past over one month and the process was still on. They said most of the wood had been ferried by the contractor. "On the one hand the government has been spending crores on awareness campaigns on afforestation and conservation of forests, on the other hundreds of grown up trees have been felled in one go. This signifies hypocrisy and double standards of the government," they said.
Local officials of the Forest Protection Force said they were obliged to protect trees on forestland only, whereas in case of government land the permission was required to be sought from the tehsildar concerned for cutting trees.
Vijay Sharma, tehsildar, Sunder Bani, said: "No one sought any permission from me to fell the trees". "The land has been handed over to the Police Department by the JKI. It was in their contract that land would be handed over after clearing the entire tract," he added.
Similarly, Balwant Singh, former tehsildar of Rajouri who retired on March 31, and Sayed Khan, in charge tehsildar, said the permission for felling the trees was not granted by either of them.
Liyakat Ali, DSP, headquarters, Rajouri, said: "The JKI is getting the trees cut at its own. We have procured only land tracts at two of its closed factory sites in Sunder Bani and Fatehpur, near Thanamandi. Our department has nothing to do with the felling of trees."
"As per the deal, we have paid Rs 8 lakh per kanal, excluding trees and other material. So, the JKI has been demolishing the structures, besides felling the trees to sell material and trees elsewhere," he added.
"We have sold land at both places to the Police Department, while everything else, including concrete structures and trees on the land, have been sold to a private contractor from Srinagar, Farooq Ahmed and Company," said OP Khajuria, manager, JKI.