CM to open Rang fest in Darma valley
Pitthoragarh, April 23
Uttarakhand Chief Minister Ramesh Pokhriyal Nishank will inaugurate a two-day festival of the Rang tribal community living in Darma valley in Dharchula sub division of Pitthoragarh district at Pangu on April 24. The Chief Minister will also inaugurate a six-day culture festival in Kanalichhina block of Pitthoragarh district. This was stated by district officials here.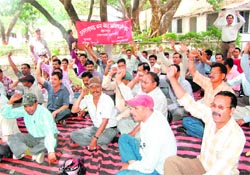 Forest guards to go easy on stir
Dehradun, April 23
After assurance of BJP MLA Govind Lal Shah, who also heads a committee on forest and wildlife in Uttarakhand, the agitating state forest guards have decided to keep their agitation a low-key affair till Tuesday.




Forest employees hold a demonstration in Dehradun on Friday. A Tribune photograph
DMs told to check use of polythene
Nainital, April 23
Harbhajan Singh Cheema, Deputy Chairman of the 20-Point Programme Implementation Committee, has asked officials supervising implementation of various schemes to conduct on-the-spot verifications.
Kandpal elected Bar Assn president again
Nainital, April 23
BD Kandpal has retained the post of president of the Nainital High Court Bar Association, the polling for which was held yesterday. He polled 211 votes while his opponents KN Joshi and MC Pant polled 158 and 177 votes, respectively.A total of 546 voters out of 682 cast vote.
People must protect Nainital beauty: Raju
Nainital, April 23
Expressing satisfaction over his almost three-year long tenure, outgoing Kumaon Commissioner S Raju has stated that people of Nainital should come forward to prevent the place from becoming a concrete jungle.
Tributes paid to Chandra Singh Garhwali

Dehradun, April 23
Chief Minister Ramesh Pokhriyal Nishank today offered tributes to Veer Chandra Singh Garhwali, the hero of the Peshawar incident.





CM Ramesh Pokhriyal Nishank pays tributes to Veer Chandra Singh Garhwali at a function in Pauri Garhwal on Friday. A Tribune photograph
Kavi sammelan to mark ONGC Basins' Day
Dehradun, April 23
The ONGC will celebrate the Frontier Basins' Day in remembrance of the spudding of the first well (Jwalamukhi-1) of the organisation on March 31, 1957, at Jwalamukhi, Himachal Pradesh, here on April 24. The well started the long journey of the ONGC to its current status of one of the premier National Oil Companies of India.
SBI grant to Ramkrishan Mission
Haridwar, April 23
The Rama Krishan Seva Mission ashram, Kankhal, has got a grant of Rs 41.41 lakh from the State Bank of India (SBI) for social medical works. According to an SBI press note, the funds will be utilised for procuring medical equipment by the mission hospital.
KV students celebrate annual day at IMA
Dehradun, April 23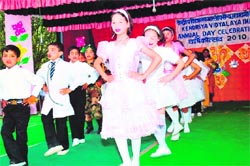 It was a day of rejoice, togetherness and hardwork for students of Kendriya Vidyalaya, IMA, as they celebrated their annual day with great fervour here today. The celebration commenced with a grand opening by the chief guest, Brig Sunil Chandra. The programme initiated with an auspicious ceremony of lighting the lamp followed by the Saraswati prayer sung by the students.

Children perform at the annual function of Kendriya Vidyalaya, IMA, in Dehradun on Friday. A Tribune photograph
Property dealer's murderer held
Dehradun, April 23
Jitender, alias Jiti, who murdered a property dealer on March 6, was arrested by the police while he was reportedly coming to the district court to surrender on the Haridwar road here today.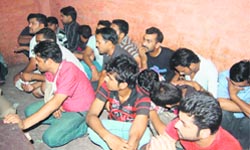 31 held for gambling
Dehradun, April 23
The police arrested 31 persons for gambling and seized about Rs 70,000 and a few cars from their possession here yesterday from a billiards pool under the Basant Vihar police station.


Youths arrested from a billiards gambling den in Dehradun on Thursday. A Tribune photograph