Left-led protest against price rise fails to evoke response in city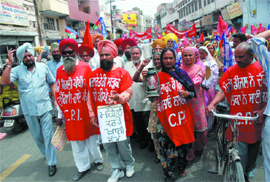 Bathinda, April 27
The all-India call for strike by the Left-led 13 parties' front failed to muster support in Bathinda even as dozens of agitators carried out a protest march through the city streets, but failed to get the shops to roll down their shutters.
In response to a nationwide call given by the Left parties against the price rise, activists of various organisations carried out a protest march in Bathinda on Tuesday. Tribune photo: Pawan Sharma

This IIT prof pedals hard to save ecology
Fazilka, April 27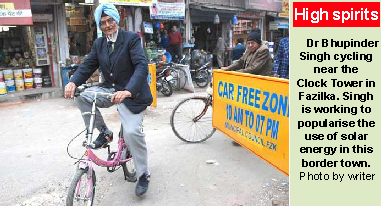 Being a septuagenarian does not diminish his spirit to go pedalling to inspire others to prevent environmental pollution, global warming and saving fuel to conserve energy. Fazilka-born Prof Bhupinder Singh, honoured with Urja Purush award by the Uttrakhand government, is virtually the epicentre for the youth whom he delights in guiding on their career path besides imbibing in them moral values.
Water crisis
Twin dists look to old wells for succour in summer
Sriganganagar, April 27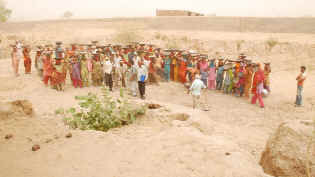 Revival of scores of abandoned wells in some parts of Sriganganagar and Hanumangarh districts, which reel under water crisis, is now being examined by the water resources department.
Water crisis: Hundreds of NREGA workers have been deployed to construct water storage tanks in the deserts of Sriganganagar district. Photo by writer

National Youth Corps to engage rural BPL family volunteers
Bathinda, April 27
The Department of Youth Affairs, Union Ministry of Youth Affairs and Sports, is introducing a new scheme, the National Youth Corps (NYC), to enable young men and women (18-25 years) to serve upto two years in nation building activities. Under the scheme, 20,000 volunteers will be enrolled.
Fighting AIDS
'Need to re-orient policy on HIV'
Abohar, April 27
"Despite a large number of youths getting infected with HIV, their needs are often overlooked during the development of the national HIV strategies, policies and allocation of budgets," said Narinder Kumar Bassi, eminent community AIDS educator, who had been honoured thrice by the UN. Bassi has so far addressed more than six lakh people in various seminars.
Expert group to focus on strengthening DRDAs
Bathinda, April 27
Succumbing to the pressure of the All India DRDA Staff Welfare Association that a member of the association be included in the list of 'Expert Group on DRDA', the Union Ministry of Rural Development (DRDA Administration) has co-opted the secretary general of the association as a member of the 'Expert Group on DRDA, constituted to work out a strategy for strengthening the district rural development agencies (DRDAs).
Protesters block traffic outside Fazilka bus stand
Fazilka, April 27 
Hundreds of members of the CPI, CPI-M, NREGA Rozgar Mazdoor Union, Sarv Bharat Nauzwan Sabha and the Istri Sabha took out a procession in the town and staged a dharna outside the local bus stand against inflation. They closed the main gate of the bus stand and also blocked the traffic there. Most of the buses had to ply from a distance away from the bus stand. The passengers remained stranded there.
Workshop on respiratory therapy organised at Adesh Inst
Bathinda, April 27
A two-day workshop on 'Respiratory therapy—an integrated approach in ICU', which was organised by the College of Physiotherapy at the Adesh Institute of Medical Sciences and Research, concluded here on Sunday.
Woman, brother-in-law commit suicide
Fazilka, April 27
One Mamta (20), a resident of the local Radha Swami Colony and her brother-in-law allegedly committed suicide on Monday. A dispute between the two families over dowry is believed to be the reason behind the tragedy.
Horticulture funds
SAD leader alleges misuse, seeks probe
Abohar, April 27
Alleging that the funds received from the Central government under the National Horticulture Mission to rehabilitate old fruit orchards in Ferozepur, Muktsar, Hoshiarpur and Gurdaspur districts, had been misused, Surinder Saluja, member of the SAD general council and district general secretary of the ruling party today demanded a high-level probe in the whole episode.
Sibling rivalry
Three hurt in scuffle over land
Ferozepur, April 27
Three persons including two women were injured following a scuffle over land. The injured were admitted to the local Civil Hospital. According to one of the injured, Kashmir Singh, he had a share of one acre of land in village Machiwara out of the ten acres of ancestral land.