Governor, CM for time-bound completion of schemes
Jammu, April 27
Governor N.N. Vohra and Chief Minister Omar Abdullah here today reviewed the ongoing development works aimed at improvement of the infrastructure at Katra and en route the holy cave shrine.
Defunct tubewells compound farmers's woes
They have already lost kharif, rabi crops due to dry spell
Chakra (Bishnah), April 27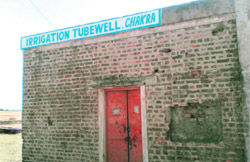 Having lost kharif and rabi crops due to the prevailing dry spell, farmers of Bishnah and RS Pura belts are still a worried lot as the authorities have failed to take water of the Ranbir canal to tail-end of villages. Furthermore, defunct tubewells, dug by the Irrigation Department to enhance irrigation facilities, have further compounded the woes of the farmers.
A locked irrigation tubewell at Chakra village which has been virtually abandoned by the PHE authorities after it developed a technical snag. A Tribune photograph
Chilled, purified water for cops at police stations
Jammu, April 27
This summer, policemen need not bring chilled water bottles from home, as the Jammu police has decided to install water purifiers and water coolers at all 26 police stations and 45 police posts in the district. Besides, the police has also decided to provide water campers at all police pickets (nakas).
Waraich is GOC, Tiger Division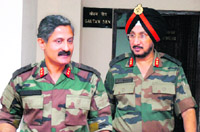 Jammu, April 27
Major-Gen TPS Waraich, VSM, is the new GOC of 26 Division (Tiger Division). He took over from Major-Gen K Surendranath, SM, VSM, GOC Tiger Division, who is proceeding on transfer as MGGS, Southern Command.
Outgoing Major-Gen K Surindernath, GOC, Tiger Division (left) along with incumbent Major-Gen TPS Waraich during a function at the Defence Accounts Department in Jammu on Tuesday. Tribune photo:Anand Sharma
Missing Ludhiana child found in Jammu
Jammu, April 27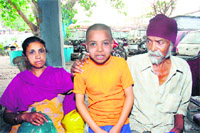 With efforts of Childline Jammu and Chandigarh, besides the Jammu and Kashmir police and Punjab police, Lali - a six-year-old child from Ludhiana who had been missing for the past 10 days was finally united with his parents here this morning.


Lali in the company of his parents at Nehru Market police post in Jammu on Tuesday.Tribune photo:Anand Sharma

Parties hope PM will meet Gilani, discuss Kashmir
Srinagar, April 27
Various political parties are looking forward to the SAARC Summit beginning in Bhutan tomorrow, as they hope Prime Minister Manmohan Singh will meet his Pakistan counterpart Yousuf Raza Gilani and hold deliberations on the Kashmir issue. Only a day earlier, the PDP had in a memorandum to the Prime Minister sought immediate steps towards the resolution of the Kashmir issue, while it held statewide demonstrations in support of its demand.
Mirwaiz Umar Farooq
ANC concerned over human rights violations
Srinagar, April 27
Seeking revocation of the special powers to security forces, the Awami National Conference (ANC) has blamed the Centre for the alleged murder of one person in Shopian district of south Kashmir last Saturday.
BJP warns against withdrawing AFSPA
Jammu, April 27
BJP spokesman Ramesh Arora has warned the Congress-NC coalition against withdrawing Armed Forces Special Power Act (AFSPA), which according to him was required to deal with militants.
Freedom Fighters Association felicitates Akhoon
Jammu April 27
The Jammu and Kashmir Freedom Fighters Association today felicitated Minister for Transport and Consumer Affairs and Public Distribution Qamar Ali Akhoon for bringing transparency in the department under his charge and rendering yeoman service in ensuring accountability.
Tributes paid to Mian Deedo
Jammu, April 27
The Jammu and Kashmir Academy of Art, Culture and Languages and the Mian Deedo Memorial Committee, Jammu, jointly organised a function in the honour of Dogra hero Mian Deedo on his 231st birth anniversary at KL Saigal Hall here today.
Vohra mourns Prabha Rau's death
Jammu, April 27
Governor NN Vohra has expressed profound grief over the death of Rajasthan Governor Prabha Rau, whom he had known ever since she took over as Governor, initially in Himachal Pradesh.
One killed, 3 hurt as car falls into river
Jammu, April 27
A youth was killed and three others were injured when their car fell into the Ranbir Canal, near Paloura late last night.