Mental arithmetic
Fazilka girl shows spark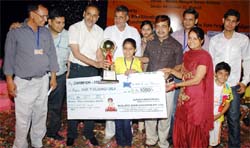 A student of class VI, Arshia Thakral (11), of Fazilka won first prize in the Universal Concept of Mental Arithmetic System (UCMAS) state-level test held at Mohali last week.She won the Champions Trophy in her age group by solving 175 questions in just eight minutes. About 2,500 students of Punjab and Chandigarh participated in the mental arithmetic ability test.

Arshia Thakral accompanied by her parents while receiving the Champions Trophy in a state-level mental arithmetic test held at Mohali. Photo by writer

Imparting training to make youth self-reliant
Bathinda, May 2
Various government, semi-government and
non-government organisations (NGOs) are nowadays providing free training to educated and uneducated, unemployed youths so as to enable them to start self-employment ventures. One such organisation is the North India Technical Consultancy Organisation (NITCON), Chandigarh, which has been conducting here a free five-week technology-based entrepreneurship development programme in the trade of electrical and electronic gadgets assembling.


A training programme being conducted by the North India Technical Consultancy Organisation (NITCON) in Bathinda. Tribune photo: Pawan Sharma

Plans for Development
Woman teacher commits suicide
Moga, May 2
A 36-year-old woman, having two sons and working as a teacher in a government school, has allegedly committed suicide by burning herself at Sangla village in the Moga district last night.
Burning of wheat stubble goes unabated
Muktsar, May 2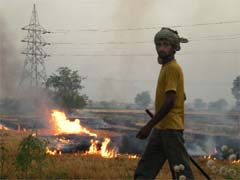 The leaping flames and malodorous smoke emanating from the harvested wheat fields along the roadsides in Muktsar - home district of the Chief Minister - are enough to suggest that farmers as well as district administration are yet to realise the gravity of threat posed by burning paddy straws.




Stubble being burnt in fields on the outskirts of Malout in Muktsar district on Sunday. Photo by writer

Woman leaders meet CM
Sriganganagar/Abohar,May 2
It may sound surprising that women folk in the twin districts of Sriganganagar and Hanumangarh, who were known to keep their faces covered, have now virtually snatched the command for development after enjoying 50 per cent reservation in the civic bodies.
Chief Secy: Shift PCS officers every 3 years
Anandpur Sahib, May 2
All PCS officers in the state should be transferred after three years. Following this, no officer should stay at the same place for over three years. Punjab Chief Secretary SC Aggarwal told mediapersons here yesterday.
3 held for murder
Hanumangarh/Abohar, May 2
The police in Nohar segment claimed to have solved the mystery shrouding blind murder of Sardul Singh (60).DSP Nevil Clark said that three youths including a tenant of the victim have been arrested. They were identified as Chhotu Lal Lalpura (40), Sanjay Jat and Ram Kumar Gurjar of Rawatsar.
Pilgrim killed in road mishap
Abohar, May 2
Radhey Shyam Dhingra (30), a cloth merchant of Anand Nagari here, was killed while his pillion riding employee Karan sustained injuries as a truck reportedly hit the motorcycle today near Sardarshehar in Hanumangarh.
Arya Samaj office-bearers
Bathinda : PD Goyal has been elected as the president of Arya Samaj, Bathinda, for three years. He has nominated Ved Parkash Raman, Chiman Lal Mehta and Navneet Kumar as the senior vice-president, the general secretary and the cashier, respectively, according to a press note issued by Ramesh Kumar Garg, press secretary, on Sunday. — TNS
Brahmin Maha Sammellan
Bathinda: In connection with Bhagwan Parshuram Jayanti, a 'Brahmin Maha Sammellan' will be held on May 23 at Mandi Gobindgarh, according to state president of Shri Brahmin Sabha Punjab Devi Dayal Prashar here on Saturday. — TNS