'India needs to take cyber security seriously'
Amaninder Pal
Tribune News Service
Jalandhar, May 3
To thwart the looming threat of cyber insecurity, India needs services of more than 77,000 ethical hackers per year to protect cyber network of all private and public establishments, however, the country is producing just half of the required number.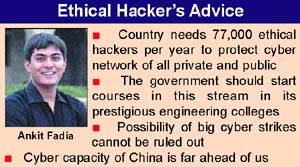 This was stated by well-known ethical hacker of India Ankit Fadia, who served as consultant to the Federal Bureau of Investigation (FBI) and Anti-Terrorist Squad (ATS), Mumbai, to crack terror secrets during the aftermath of 9/11 and 26/11 attacks.
He was in city as a part of promotion campaign of an apparel brand.
Fadia, who decoded the al-Qaeda's encrypted e-mails after 9/11 attacks, said as per recently published NASSCOM report, number of required ethical hackers in India would increase to 1.2 to 1.3 lakh in the next five years, however, the government is doing bit to produce such experts.
"Most of the ethical hackers were trained either through courses organised by their respective companies or of their own. Though threat of cyber terrorism is grave, the government is still not offering courses in this stream in its prestigious engineering colleges," said Fadia.
Responding to whether Indian insurgents group have the capability to encroach cyber security, he said possibility of big cyber strikes couldn't be ruled out.
"Cyber attacking capacity of al-Qaeda was unearthed only after 9/11. Similarly, we cannot rule out the underlying threat posed by the insurgent groups active in India. All they need is just to recruit handful of intelligent hackers into rank and files," said Fadia, who is consultant to state police of eight states, Central Bureau of Investigation, Central Forensics Laboratory, Ministries of Defence and Home Affairs (Singapore), Thai Airways and Bank of Thailand.
On recent cyber attacks committed through the IP addresses, which were allegedly traced in China, he said this simply showed that cyber capacity of China is far ahead of us. "By adopting different modus operandi, they keep on doing security tracking of our websites and IP addresses and attack wherever they find crack in security. In one way, they are establishing themselves as an authority both in cyber defense and offense," he said.
Just at the age of 24, he has authored 14 books of international repute on different topics of cyber security and three millions copies of his first book "The Unofficial Guide to Ethical Hacking", which he wrote at age of 14, were sold and translated into 11 languages across the world.
He has been felicitated with 45 awards including Microsoft Valuable Professional Award by Microsoft and Person of the Year 2002 by Limca Book of Records.