| | |
| --- | --- |
| | The Hero Honda chowk in Gurgaon's Sector 37 has been waterlogged for the past seven days. Tribune photo: Sayeed Ahmed |
Radiation: DU teachers want VC to resign
New Delhi, May 5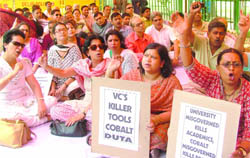 Reacting strongly to the negligence in the disposal of radioactive Cobalt-60 by Delhi University's chemistry department, the Delhi University Teachers Association (DUTA) today staged a massive demonstration in front of the vice-chancellor's office.

Teachers of Dehi University protest against vice-chancellor Deepak Pental's "callous act" in selling radioactive Cobalt-60 to scrap dealers, in New Delhi on Wednesday. Tribune photo
Metro installs special gates for smart card users
New Delhi, May 5
To help avoid long queues at the exit points of Metro stations in the Capital, the Delhi Metro has installed separate gates for smart card users, an official said on Wednesday.
Man frames rivals in criminal cases
New Delhi, May 5
The south district police has arrested a 48-year-old man for allegedly implicating 24 persons in various criminal cases in Uttar Pradesh and Uttarakhand.
3 child labourers rescued
16 children were rescued from a bakery unit just yesterday
New Delhi, May 5
Children as young as eight years were found making electrical sockets at a factory in Nangloi when a combined inspection team of the Delhi government's task force on elimination of child labour, local police and labour department reached the spot today.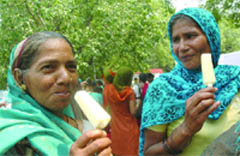 Thundershowers likely today
New Delhi, May 5
With the minimum temperature five notches above average at 28.5 degree Celsius, it was a warm start to the day today for Delhiites. The maximum temperature recorded today was 41.7 degree Celsius. The humidity was recorded at 42 per cent.
Anganwadi workers relish ice cream on a hot summer day in New Delhi on Wednesday. Tribune photo: Mukesh Aggarwal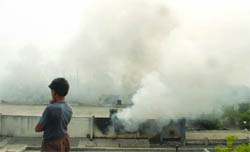 Fire destroys factory in Okhla
New Delhi, May 5
A major fire gutted a factory in the Okhla industrial area here today, the Delhi Fire Service said. No one was injured in the incident.




Smoke billows out from the factory in New Delhi on Wednesday. Tribune photo
Reporter killed while covering fire incident
New Delhi, May 5
A young reporter working with a Hindi news channel was killed today evening while covering a fire incident in the Dwarka area of south-west Delhi.
Safdarjung college polls on May 7
New Delhi, May 5
Students today filed their nominations for the students' union election on May 7 at Vardaman Mahavir Medical College of Safdarjung Hospital. The institute is going for the polls for the first time.
Clubfoot to be treated non-surgically in Delhi
New Delhi, May 5
Clubfoot patients will now be able to get non-surgical treatment at nominal charges in Delhi, state health minister Kiran Walia said on Wednesday.
CMAT students protest
Greater Noida, May 5
Protesting against the non-recognition of college by All India Council of Technical Education, students of Centre for Management and Technology (CMAT) today gave a memorandum to the district magistrate.
3 gates to welcome CWG visitors to Gt Noida
Greater Noida, May 5
Three entry gates would be built to welcome visitors to this town adjoining the national Capital during the Commonwealth Games in October this year.
Retired judge to probe Jamia job irregularities
New Delhi, May 5
Jamia Millia Islamia is launching an independent inquiry into suspected irregularities in appointments and promotions during the tenure of the previous vice-chancellor, Prof Mushirul Hasan, it is reliably learnt.
Geelani granted bail inperjury case
New Delhi, May 5
A city court today granted bail to Delhi University (DU) professor S.A.R. Geelani, acquitted in the 2002 Parliament attack case, relating to a case in which he had allegedly given the false address of a murder accused.
Koli's sentencing postponed
Ghaziabad, May 5
The Ghaziabad Central Bureau of Investigation Court has deferred the arguments on the quantum of punishment to accused Surinder Koli for rape and murder of seven-year-old Arti, till May 12 due to the strike by lawyers.
Immigration racket busted, two arrested
New Delhi, May 5
An Afghan national Sayed Salem and his Nepali accomplice Anand Kumar were arrested by the special cell of Delhi police for allegedly facilitating the immigration of Afghan nationals to Australia using Cambodia and Indonesia as transit points.
Singaporean gets 14-day custody for carrying drugs
New Delhi, May 5
A Delhi court today sent a Singaporean national to 14 days' judicial custody for allegedly carrying seven kilograms of hashish.
Dhaba worker beaten to death
Greater Noida, May 5
A man employed in an eatery under the Kasna police station was beaten to death by another worker over tip. His body was found outside the eatery this morning.
Rs 2.5 lakh robbed from trader's office
New Delhi, May 5
Five unidentified men barged into the office of a cement trader in the Saraswati Vihar area of north-west Delhi last night and decamped with Rs 2.5 lakh.
Boy held for trying to kill grandmother
New Delhi, May 5
A 25-year-old man who was on the run for the past one year after trying to murder his grandmother has been arrested from Chennai.
Traffic cop assaulted by bikers
Noida, May 5
Three brothers allegedly beat up a traffic police head constable at Rajni Gandha crossing. The three alleged the policeman was demanding bribe on the pretext of checking their bike.
Vendor stabbed to death, 2 held
New Delhi, May 5
A 26-year-old vendor was stabbed to death in the Dabri area of south-west Delhi last night. Two persons— Pankaj and Raju have been arrested for the murder.
Woman hangs self in zoo
New Delhi, May 5
A 32-year-old woman allegedly committed suicide in the staff quarters of Delhi zoo today morning.