PUNJAB
HARYANA
JAMMU & KASHMIR
HIMACHAL
REGIONAL BRIEFS
NATION
OPINIONS
LETTERS
BUSINESS
SPORTS
WORLD
D E H R A D U N P L U S
encroachments
Corbett gets space aid
Uttarakhand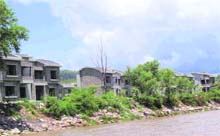 Space Application Centre gathers satellite images for identification of encroachments
Dehradun, May 9
Encroachments at the Jim Corbett National Park are under the scanner.

Encroachments on forest land of the Kosi range of the Ramnagar forest division in the Dikhuli area. The area has become a corridor for wild animals between the Corbett Tiger reserve to the Ramnagar forest division along the Kosi river.
RSS march passes off peacefully in Haridwar
Haridwar, May 9
Just a day after tension gripped Bishanpur village in Haridwar district over the killing of a youth by an elephant and subsequent violence by villagers, the RSS carried out a march, "Path Sanchalan", today.
Jumbo trouble in Bishanpur
May 9, 2010
Frequency loophole eases state's power situation
May 8, 2010
Power projects: Oppn seeks CM's resignation
May 6, 2010
Basic amenities in remote areas of Pitthoragarh sought
May 5, 2010
Incomplete homework costs student dear
May 4, 2010
Ganga shifts course by 500 metres
May 3, 2010
1.64 cr took dip on April 14
May 2, 2010
Mela cops end Kumbh duty with 'peshwayi'
May 1, 2010
Akhada Parishad against removal of structures
April 30, 2010

Maha Kumbh ends


April 29, 2010