Politically correct Miss India inspires the underprivileged
Tribune News Service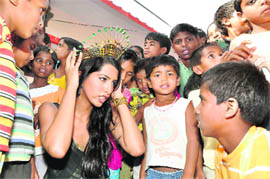 Manasvi Mamgai interacts with children at a school run by Doon School at Sapera Basti, a slum colony, in Dehradun on Saturday. A Tribune photograph
Dehradun, May 15
Born in Delhi, brought up in Chandigarh and now living in Mumbai, Manasvi Mamgai, Miss India-World 2010, who hails from Uttarakhand, introduces herself as an Indian. Being politically correct, she came to the town with her tiara neatly set on to her head, and gave credit to her association with the state for giving her beautiful skin and remembered her happy childhood spent in the scenic Nainital.
Although she could not give any reason for Indian pageant winners failing to bag the title of Miss World for the past nine years, she hopes to break that jinx this year.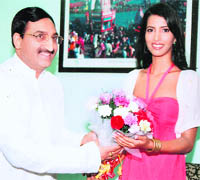 Manasvi with Chief Minister Ramesh Pokhriyal Nishank in Dehradun on Saturday.
"Indian women are indeed a better bet at the international level as they are endowed with a rare combination of beauty with a brain. To better my chances, I am working on my clothes, diction, walk and other minute details," she said.
Actor is what she aspired to become since childhood, and it is to fulfill her mother's ambition to see her don the mantle of Miss India, that she took detour to modelling first.
"My mother has been my real inspiration who put me to learn five kinds of dances, sports, skating and other extra-curricular activities and shaped up my career," she revealed. She goes on to add, "When my name was called out for Miss India title, my mother jumped and almost fainted out of excitement."
In her capacity as a Miss India, she wants to do her bit to spread awareness about the significance of education among women. She sticks to same pledge when it comes to rendering her services for Uttarakhand also. "I want women of the state who have been suppressed for ages to attain good education, to live a liberal and financially independent life thereafter," she said. She exemplifies through her own case saying, "My mother, who separated from my father, brought me up single-handedly and provided me everything by dint of her education because of which I could reach to this level".
To extend her support to the NGO, People For Animals (PFA), based in Dehradun, for which she came to the city, she said, "I have always been an animal lover and would like to sensitise people toward animals through various NGOs".
Education, as she has already reiterated is her top priority when it comes to social work, in city also, she went out to meet and encourage 65 poor children of Sapera Colony in their school run by prestigious institute, The Doon School. The way she effortlessly mingled with children and told them how education was important to make their dreams come true was remarkable. Faculty of The Doon School and some students were also there.
Amrit Burrett, Co-coordinator explained the celebrity how they were inculcating passion for studies in these children. Vigyan Singh Dhiman, Class XII student of The Doon School too said this mutual interaction between privileged and unprivileged children benefited both the sides. "With these interactions, I've been able to fathom difficulties in their life, and will continue to make good use of my resources to bring them up in society in future. Similarly, these children too have understood the value of education in life through us," Manasvi too applauded the idea wholeheartedly.
She also went on to meet Chief Minister Ramesh Pokhriyal Nishank and expressed her affection for the state where she has been coming every year to spend vacations saying that the state has been blessed with amazing natural beauty and she as an ambassador of the country, would disseminate this information to the world.