M A I N N E W S
It's musical chairs in Jharkhand
BJP, JMM to take turns to lead govt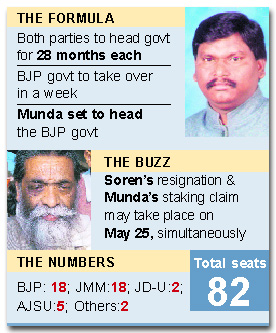 Ranchi, May 18
Ending a three-week political impasse in Jharkhand, the BJP and the JMM today reached an agreement on sharing power on rotational basis for the remaining term of the state Assembly, with a BJP-led government to take over within a week.
"We have decided that the BJP and the JMM will share power for 28 months each, with the BJP taking over in the first phase," Chief Minister Shibu Soren and BJP's chief ministerial candidate Arjun Munda told a joint press conference here after a meeting of the coalition partners.
Asked when he would step down as the Chief Minister, Soren said "very soon" but did not give any date.
BJP and AJSU leaders, however, claimed the power-shift would take place on May 25.
"Both Soren's resignation and Munda staking claim may take place on May 25 simultaneously," a senior AJSU leader and a national BJP leader said.
The BJP announced its decision to withdraw support to the Shibu Soren government on April 28 after the JMM chief voted against the BJP-sponsored cut motions in the Lok Sabha. However, after Soren's son Hemant made an offer to the BJP to head the government in the state, the BJP revoked its decision. However, a tussle ensued on the power-sharing formula.
Both the JMM and the BJP have 18 seats each in the 82-member House. Other members of the coalition are the JD-U with two seats, the All-Jharkhand Students Union, which has five seats and others two. — PTI