PUNJAB
HARYANA
JAMMU & KASHMIR
HIMACHAL
REGIONAL BRIEFS
NATION
OPINIONS
LETTERS
BUSINESS
SPORTS
WORLD
Wednesday, May 19, 2010, Chandigarh, India
Updated at 3:00 am (IST)

It's musical chairs in Jharkhand
BJP, JMM to take turns to lead govt
Ranchi, May 18
Ending a three-week political impasse in Jharkhand, the BJP and the JMM today reached an agreement on sharing power on rotational basis for the remaining term of the state Assembly, with a BJP-led government to take over within a week.
Nation page: Marandi moves SC against Soren
PM calls meeting to chalk out anti-Naxal strategy
New Delhi, May 18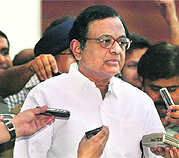 Prime Minister Manmohan Singh has called a high-level meeting on Tuesday to review the strategy to tackle Maoists amid a raging debate in government circles on whether it was time to exercise the option of using air power to tackle the Naxalite violence.
Chidambaram offers to hold talks with Naxals if they 'suspend' violence even for just 72 hours.

Maoists reject talk offer

Editorial: Maoists strike again
Nation page:

BJP blames 'crippled' govt

Casual approach of SPOs proved fatal
CAST YOUR VOTE
Should the execution of Ajmal Kasab's death sentence be put on fast track?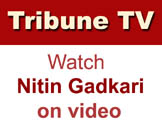 UNION BUDGET 2010-11
RAILWAY BUDGET
2010-11
NDA 60 Glorious Years
1857 The First Challenge
E - Revolution 2005:
A Two-day IT conclave
Assembly Elections - 2005
Turbans
Chandigarh is 50
125 Years of The Tribune
India: The Tasks Ahead
India at Sixty
A Tribune Supplement
EARLIER FEATURES
On Sundays
On Saturdays
Pak troops target Army vehicle, 2 jawans killed
Jammu, May 18
Two Army jawans were killed as the Pakistan Rangers targeted an Army vehicle at the Nangi Takri post near the LoC in the Krishna Ghati sector of Poonch district this evening, the sources said.
'Misperception in Pak about India's role in Afghanistan'
Dr Abdullah Abdullah, a former foreign minister of Afghanistan, says there is a misperception in Pakistan about India's role in his country.
2010 is warmest ever in recorded history
Washington, May 18
The year 2010 is turning out to be the warmest ever in recorded history, with the first four months reporting an average temperature of 13.3 degrees Celsius, which is 0.69 degrees above the 20th century average.


Notices to Yuvi, Nehra, 4 others
Players had a scuffle with fans in St Lucia pub
Mumbai, May 18
The Board of Control for Cricket in India (BCCI) has issued notices to six cricketers from the Indian team for their alleged involvement in pub brawl with fans at a pub in St Lucia shortly after crashing out of the T20 World Cup.
Today's specials
HEALTH & FITNESS

JOBS & CAREERS

HIMACHAL PLUS

J&K PLUS

AMRITSAR PLUS

JALANDHAR PLUS

Dantewada again, toll 36
May 18, 2010

Bangkok bleeds
May 17, 2010

Jihadis camping in PoK to sneak into India
May 16, 2010

3 Pakistani aides of NY bomb plotter held
May 15, 2010

Centre clears decks for first defence varsity
May 14, 2010

India should not hold talks with Pak: BJP chief
May 13, 2010
Krishna to visit Pak
May 12, 2010
Higher Education Bill hits a bump
May 11, 2010
Chhattisgarh forests death traps: Police
May 10, 2010
BJP wins power tussle
May 9, 2010