Visit of Amnesty Team
Kashmiri Pandits highlight problems
Srinagar, May 19
An Amnesty International team, currently on a visit to the valley,today met leaders of the Kashmiri Pandits Sangarsh Samiti (KPSS), an organisation of the Pandits in Kashmir.
3 militants killed in Pulwama
Srinagar, May 19
At least three militants, including a "battalion commander" of the Hizbul Mujahideen, were killed in an encounter with security forces at Bamun village in Pulwama district this afternoon.
Non-state subjects not to be included
Srinagar, May 19
Non-state subjects working here would not be included in the National Population Register (NPR) of Jammu and Kashmir.
Elections to Jammu varsity students union soon
No plan to establish police post, call off strike: VC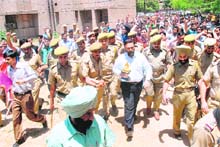 Jammu, May 19
For the first time in its history, the Jammu University would soon be holding elections for a students union, which would be one common body of all the students.


Agitating students trying to gherao the Vice-Chancellor of Jammu University, Prof Varun Sahni, in Jammu on Wednesday. A Tribune photograph
Militant's designs exposed, 'wife' turns out to be minor
Jammu, May 19
From across the border, under the shield of a "virgin" wife came Mohd Ashraf, a Hizbul Mujahidden militant, with an aim to regroup the militants whose ranks have been severely hit by Army operations.
Decorated cop dubbed militants' sympathiser
Family alleges foul play, demands judicial probe
Jammu, May 19
Guddi Devi, along with her younger sister and brother, has been moving from pillar to post to get justice for her brother Davinder Kumar, a selection grade constable in the state police, who has been allegedly projected as "militants' sympathiser" by some officers due to "internal rivalry" in the department.
Burning of stubble goes on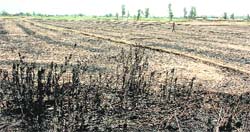 Kullian (R S Pura), May 19
Despite the recent fire in a field in the R S Pura sector that destroyed wheat crop worth lakhs and injured some persons, residents and the administration are yet to wake up to the enormity of the problem as the burning of wheat stubble continues in the periphery.

A field in Kullian village where the stubble was burnt, in RS Pura on Wednesday. Tribune photo: Anand Sharma
Tour operators flay parties over entry fee
Jammu, May 19
The Jammu and Kashmir chapter of the Indian Association of Tour Operators (IATO) has flayed political parties for raking up the issue of entry tax to create turmoil in the state.
Govt harassing minorities, says BJP
Jammu, May 19
Taking a serious note of repeated incidents of harassment of minority community in erstwhile Doda district, the BJP today alleged that authorities had been trying to force migration of a particular community from that belt.
Suicide bid: Girl dies, boy struggling for life
Jammu, May 19
Failing to tie the nuptial knot, a young boy and girl today allegedly consumed some poisonous substance in the Muthi area here, the police said.
Kathua boy tops in school board class XII exam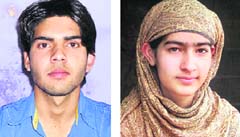 Jammu, May 19
Kathua boy Chetan Chalotra topped in science stream, Jammu girl Parul Chhibber in commerce, and Bhaderwah girl Farhat Shamim Khan in arts in the class XII results of the Board of School Education (BOSE) of the Jammu division declared this afternoon.


Chetan Chalotra and Right Farhat Shamim Khan
Sugndhi, Ashna, Ishan top in CBSE Class XII exams
Presentation Convent School secures 100 per cent result
Jammu, May 19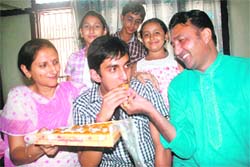 Presentation Convent School, Gandhi Nagar, secured 100 per cent result in the Class XII Central Board of Secondary School (CBSE) examination declared today.Sugndhi Malgrotra of Presentation Convent School, Ashna Kumar of Army School Kaluchak and Ishan Koul of Air Force School, Satwari, secured top positions in their respective schools.

Ishan Koul celebrates his success along with his parents at his home in Nanak Nagar, Jammu, on Wednesday. Tribune photo: Inderjeet Singh

Make educational institutions schools of excellence, says CM
Jammu, May 19
Maintaining that Jammu and Kashmir is second to none in talent bank, Chief Minister Omar Abdullah highlighted the need of making educational institutions the "schools of excellence".
Two militants killed
Jammu, May 19
The security forces today gunned down two "divisional commanders" of the Lashkar-e-Toiba under a joint operation carried out by the 26 RR and 31 RR of Army, CRPF and the police in the forest area of Jaura Khurd, Gundoh, in Doda district.
BSF notices activity near LoC, opens fire
Jammu, May 19
A day after the attack on an Army vehicle by Pakistan Rangers at Nangi Tekri border outpost in Krishna Ghati Sector of Poonch, in which two jawans were killed and four others injured, BSF troops today noticed some suspicious movement of militants near two border outposts along the near the Line of Control (LoC) in Hiranagar Sector, the sources said.