Cong women condemn state govt policies
Dehradun, May 24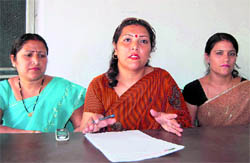 Perturbed members of the Zila Mahila Congress staged a dharna as part of the party's agitation against the anti-people policies of the state BJP government at the Gandhi Park here today. Workers of the state Congress women's wing shouted slogans accusing the state government of doing little to address the concerns of people.

Congress leaders at a press conference in Dehradun on Monday. A Tribune photograph

Two bridges on Malan, Sukhro rivers inaugurated
Dehradun, May 24
Uttarakhand Chief Minister Ramesh Pokhriyal Nishank today inaugurated two bridges, one of these the longest in the state, near Kotdwar town, besides inaugurating the new building of the PWD Rest House in the town.
Cong panel to probe DPC poll debacle
Dehradun, May 24
Following cross voting by Congress councillors of the Dehradun Municipal Corporation (DMC) in the recently concluded elections to the District Planning Committees (DPCs), Uttarakhand Congress president Yashpal Arya has appointed a three-member committee to probe the matter. Poor management of the Congress was also evident in the elections.
108 Ambulance to provide helpline for women
Dehradun, May 24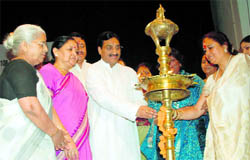 The State Women Commission and Pandit Deen Dyal Upadhyay, also known as GVK EMRI 108 Ambulance Services, joined hands to provide a helpline to women in distress. Now, women facing atrocities can call up the 108 number for assistance. The emergency service also offers police service. With the new responsibility, the ambulance services will be equipped to provide police protection and other remedial measures.

Chief Minister Ramesh Pokhriyal Nishank lights the lamp at a function in Dehradun on Monday. A Tribune photograph

Diploma engineers' body threatens to go on strike from June 7
Dehradun, May 24
The apathy of the state government has burst out in the form of agitations and protests. Annoyed at no results shown by the state government on their pending demands, members of the Uttarakhand Diploma Engineers Federation have threatened to go on strike one by one district-wise from June 7 to 10 at the Pay Jal Mukhyalaya.
CM expresses sympathy to accident victims' kin
Haridwar, May 24
Chief Minister Ramesh Pokhriyal Nishank has expressed sympathy and condolence to family members of those who got killed in an accident in Haridwar today.
Another student commits suicide after failing exams
Nainital, May 24
Yet another student has committed suicide after failing to clear his examination. This time the incident took place at Khatima in Udham Singh Nagar district.
HelpAge physiotherapy centre gets generator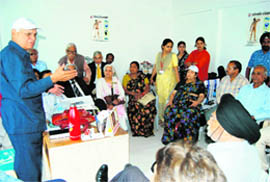 Mussoorie, May 24
Senior citizens were a happy lot as their long-standing demand of generator at physiotherapy centre was met today. The centre is being run in association with HelpAge India on the gurdwara premises. According to Senior Citizens Forum president RS Mishra, the members were facing difficulty due to regular electricity cuts.


The president, Senior Citizens Forum, thanks HelpAge members in Mussoorie on Monday. A Tribune photograph
175 get tips on disaster management
Mussoorie, May 24
More than 175 persons received training on disaster management under the aegis of the DIPIKO project run by the community hospital in Mussoorie.