CCTV project at rly station fails to click
Ludhiana, May 24
A year ago the excise and taxation department had installed two CCTV cameras at the city's train station on a trial basis to keep tabs on the 'peti mafia' operating there. However, today there is no sign of any of these cameras. The initiative appears to have fizzled with members of the gang reportedly destroying the cameras to serve their own interests.
Rs 6.5 lakh looted at gunpoint, 2 hurt
Khanna, May 24
Unidentified miscreants looted nearly Rs 6.5 lakh from a local businessman at gunpoint in the wee hours today.
City Concerns
The Ferozepore Road passing through the city has become a road of protests for agitators. Despite being a busy road, the protesters often lay a siege on it, thereby throwing smooth traffic out of gear. Commuters have to suffer as they are stranded during protests.


Slum dwellers go without potable water for years
Ludhiana, May 24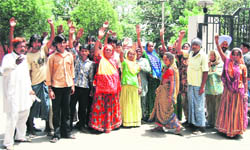 With the mercury hovering around 47 degrees Celsius the sweltering heat has made the lives of most city residents miserable. Adding to its woes a sizable section of the population consisting of those who live in shanties in slum areas has not had access to clean drinking water for the past two years.
A tribal community from Rajasthan stages protest against water shortage at the Ludhiana Municipal Corporation office on Monday. A Tribune photograph
No hitchhike from women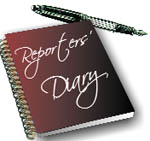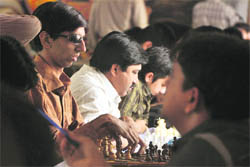 It is not just women who are afraid to get a hitchhike from men, but the fear of sitting next the strange woman is evident in men as well. A man standing near a main intersection was trying hard to get a lift from every car driven by a male on a scorching day of May. But none of the vehicles stopped to give the poor man a lift.
A visually impaired player in action during the Ludhiana Open Chess Championship. Tribune photo: Himanshu Mahajan
Demand for power on the rise
Ludhiana, May 24
The alarming rate at which the groundwater is depleting in most parts of the state with the paddy-wheat rotation of crops dominating the scenario, the demand for electricity from the agricultural sector has shot up manifold.
Green belts cry for maintenance
Ludhiana, May 24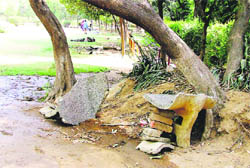 Ludhiana has only two-three parks for leisure of residents and that too are in a state of utter neglect. These poorly maintained parks are reportedly being managed by two councillors in which the benches and lights are broken, potable water is lacking and there is absolutely no provision for amusement for kids. The condition of these green belts is in a shambles, but authorities are yet to wake up.
Broken benches at Leisure Valley cause inconvenience to public in Ludhiana. A Tribune photograph
Box-making unit gutted
Ludhiana, May 24
A wooden box-making factory at New Azad Nagar, Bahadurke Road, caught fire in the wee hours today. Residents of the area rued that due to the "callous" approach of the Fire Department, the fire spread in the area and it took six hours to control it.
Crematorium caretakers dispose ash near rly tracks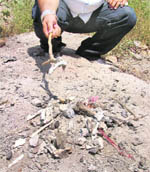 Ludhiana, May 24
In gross violation of the religious sentiments of the people, ash of "unidentified" bodies brought to the crematorium near the Sherpur Chowk is being disposed off near the railway tracks.






Bones of unidentified bodies, cremated at a city crematorium, disposed of near the railway tracks in Ludhiana. Tribune photo: Inderjit Verma
Avoid Soft Drinks
Street vendors dishing out unsafe drinks
Ludhiana, May 24
With the mercury soaring to 46 degrees Celsius city residents of all ages are finding it tough to engage in routine physical activities in the unusually hot weather for May. To quench their thirst and also to ward off dehydration many people consume various blended drinks sold by roadside vendors, often falling ill as contaminated water is invariably used in preparing them.
Black day for some, much-awaited for many
Ludhiana, May 24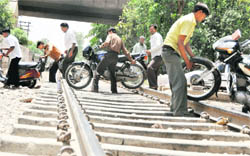 The completion of the much-awaited Gill Chowk flyover, due to be thrown open to traffic tomorrow, is expected to leave many young people jobless. The latter used to make money by helping motorcyclists and scooterists in crossing the rail tracks below the flyover.


The Gill Chowk flyover will put many out of work. A Tribune photograph
Designs bang on target
Ludhiana, May 24
Manufacturers participating in the Knits and Wear 2010, a buyer-seller meet under way here, are happy at the response, with orders pouring in. Even in the sweltering heat, people have been booking orders for woollens for this winter.
Residents' plea to SAD for overbridge
Mandi Ahmedgarh, May 24
Residents of this town and surrounding villages have sought the intervention of SAD leaders for getting their long-pending demand for a railway overbridge accepted.
Protesters demand staff regularisation
Ludhiana, May 24
The Bhartiya Balmiki Sewa Dal (Bhawadas) organised a dharna here today to protest against the Mayor and senior officials of the municipal corporation for not regularising employees of mohalla sanitation committees.
Medical camp marks Sarabha's birth anniversary
Raikot, May 24
A free medical camp was organised at the SKSS Group of Medical Institutes at Sarabha village to mark the birth anniversary celebrations of Shaheed Kartar Singh Sarabha today.
Youth killed, 4 hurt in accident
Samrala, May 24
One person was killed and four others injured when a Tata Tempo, loaded with liquor pouches, overturned near Kubbe village on the Neelon-Doraha road this morning. According to information, the tempo was coming from Doraha side. When it reached near Kubbe village one of its rear tyres busted and it overturned in the middle of the road.
Two boxers win medals
Jagraon, May 24
Sandeep Singh of the Sher-e-Punjab sports academy at Chakar village has won a gold medal during the 43rd Punjab Youth Men's Boxing Championship. He bagged gold in the 52-kg category during the meet, organised by the Kapurthala Boxing Association at Phagwara from May 20 to 22.