Villagers against elephant corridor
Nainital, May 27
An agitation has started in Kumaon on the issue of acquisition of land by the Forest Department for the proposed elephant corridor. Today hundreds of people residing in the villages of Bindukhatta and Lal Kuan held a demonstration under the banner of the Jan Kalyan Sangharsh Samiti. The villagers are alleging that the government wants to displace a large number of human beings in the name of building a corridor for elephants.
Good response to hybrid maize developed in state
Almora, May 27
The recently developed hybrid variety of maize, Vivek QPM 9, by the Vivekananda Parvatiya Krishi Anusandhan Sansthan being run by the Indian Council of Agriculture Research has drawn tremendous response.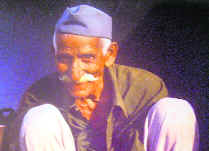 When Mussoorie was haunted by 'telis'
Mussoorie, May 27
As the British after the First War of Independence or the Sepoy Mutiny of 1857 were able to regain the lost ground and rule India under the crown their atrocities towards Indians gained momentum with every passing day and Mussoorie was no exception.
Naktu Ram, care taker of Lyndale Estate in Mussoorie. Photo courtesy Gopal Bhardwaj

Admission bigger task for students
Dehradun, May 27
With the class XII results out last week, the next hurdle for students is getting admission in the most-preferred colleges and courses. For Samiksha Todaria, who secured a good 88 per cent, getting admission seems to be the bigger challenge. She says: "What matters is getting the preferred course that I am interested in, than going with the crowd".
ABVP opposed to proposed Aligarh varsity branches

Dehradun, May 27
The Akhil Bharatiya Vidyarthi Parishad (ABVP) has criticised Central government's proposed opening of five new Aligarh Muslim University branches in the country.
Umesh Dutt, national general secretary of the ABVP, addresses mediapersons in Dehradun on Thursday. A Tribune photograph
Haldwani, New Delhi teams win league matches
Dehradun May 27
Two clubs each from Haldwani and New Delhi won their respective league matches in the All-India DSL Aloevera u-16 boys Cricket T20 trophy played here today. In the first match Gujral Cricket Academy, Haldwani beat the Gopeshwar Cricket Club by 17 runs. Electing to bat after winning the toss, GCA, Haldwani scored a total of 153 for 6 in allotted 20 overs. Abhishek Yadav scored blistering 75 runs in 47 balls with the help of 9 fours and a towering six. He was ably assisted by opener Arvind Verma who scored 34 runs in 30 balls. Amit Kamboj took two wickets for 29 runs for the Rival Gopeshwar team.
Swimming camp comes as rescue in scorching summer vacation
Haridwar, May 27
A swimming training camp, especially for the school students, is being organised at the International Club situated in BHEL. The camp is being attended by a large number of students from the day one.
| | |
| --- | --- |
| | The Uttarakhand police trainer gives swimming tips to kids at the Internatioal Club at BHEL in Haridwar on Thursday. Tribune photo: Rameshwar Gaur |
Seminar on biomedical waste management held
Haridwar, May 27
With bio-medical wastes being an environmental hazard and having serious repercussions on the health of waste handlers, health workers, patients and common people too who come in contact with the material via infection, toxic effects, the need is to have the right and effective disposal system of this waste.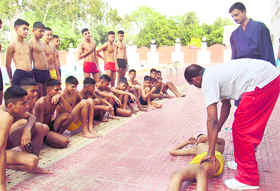 RIMC cadets get life-saving lessons
Dehradun , May 27
Life is precious and a person who saves life can be considered next to God. Many people around the world lose their lives due to lack of first aid or lack of knowledge regarding life-saving skills.


RIMC cadets get training in basic life-saving and first-aid drills in Dehradun on Wednesday. A Tribune photograph

Doon Business School to hold placement camp
Dehradun, May 27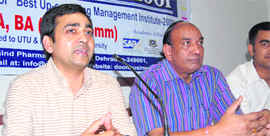 Doon Business School (DBS) is to continue with its campus placement drive from May 29 where more than 12 leading companies will come to the college for selecting deserving candidates. More than 60 companies had already selected 55 students of the MBA batch through the campus placement.
Mohit Aggarwal, Chairman of Doon Business School, addresses a press conference in Dehradun on Thursday. A Tribune photograph

Vijay Cantt, Doon Star Club in semis
Dehradun, May 27
Vijay Cantt, Doon Star Club, 2/3 Gorkha Rifles and Garhwal Sporting moved into the last four of the Narender Singh Kharola Memorial Football tournament here today.
IIT-R provides counselling online
Haridwar, May 27
Keeping with the changing times and in a bid to make counselling procedure easier for outstation students, especially those from other states, from this session IIT-Roorkee will hold an online counselling. After selection, students have to visit the IIT for admission purpose only.
Investigations on in deaths due to convulsions
Dehradun, May 27
Investigations are still on for finding the exact reasons behind the death of two boys who died yesterday after experiencing convulsions.
Adventure Cup begins today
Dehradun, May 27


he Western Command Adventure Cup 2010 commenced at Rishikesh , 40 km from here today. Landmark of adventure spirit for Indian Army, the event was flagged off by Brig Arvind Thakur, from Veerbhadra barrage.
An Army rafting team participates in the Army Adventure Cup in the Ganga near Rishikesh on Thursday. A Tribune photograph