Students' hard work pays off
ISC (class X), ICSE (class XII) results declared
Yamini Sunwar
Tribune News Service
Dehradun, May 19
Results of the Indian Secondary Certificate (ISC) class XII and the Indian Certificate of Secondary Education (ICSE) class X examinations for academic year 2009-10 were declared today.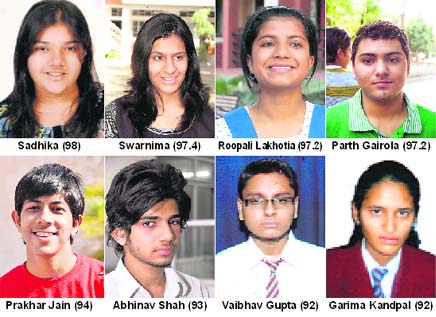 In ISC results, Shivani Singh of Welham Girls School made her school proud by scoring 97.25 per cent, the highest in science stream, while Rishika Bansal of Welham Girls and Manit Bandhini of Doon School have scored the highest (97.5 pc) in the commerce stream. Sadhika Vivek Shauq of Welham Girls topped by scoring
98 pc in humanities.
In ICSE results, Swarnima Gupta from Brightland School topped scoring 97.4 per cent. Roopali Lakhotia of Welham Girls and Spardhan Aggarwal of Doon School were second (97.2 pc) and third (96.2 pc), respectively.
Almost every school in town got a 100 per cent result. Students, parents and school authorities were very much delighted on the accomplishment of the students.
Speaking to the media, Roopali Lakhotia of Welham Girls said, "I am delighted after scoring 97.2 pc. My parents are happy for me and are planning to come and meet me from Gangtok soon".
"I owe my achievement to my teachers and school authorities who helped me in completing the course on time. After that, regular unit tests helped us revise our course and remove our mistakes," she said.
Despite her tough study schedule, Roopali Lakhotia took out time for hobbies like music and games. She plans to study humanities in the future and aspires to become Secretary General of the United Nations.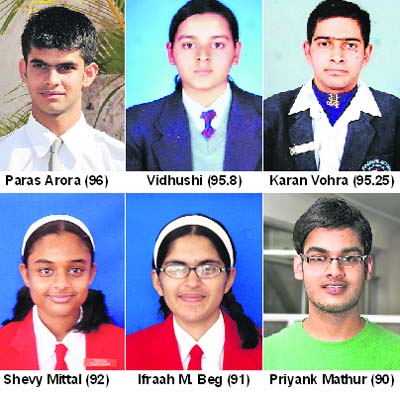 "I stayed cool and focused on quality study in the final moments. Thorough revisions of lessons and, of course, the support of teachers led me and other meritorious students of the school to achieve good scores in the examinations," said Swarnim Gupta of Brightland School.
Results of other schools:
St Joseph Academy class X: Science-Vidhushi Dobhal 95.8 per cent; Commerce-Jalaj Anand 91.2 pc.
St Joseph Academy Class XII: Science-Karan Vohra 95.25 pc; Commerce- Aastha Garg and Kshitij Gupta 94 pc.
St Thomas College: Class X: Garvit Arya 95.4 pc and Rishi Garg 95 pc.
St Thomas College: Class XII: Commerce- Tanuj 94.25 pc; Science-Vaishali Gupta-93.25 pc.
Marshall School: Class X: Sonam Kala 95 pc, Ayush Mehra and Aman Dahral 93 pc.
Marshall School: Class XII: Science-Abhinav Shah 93 pc; Commerce-AR Rashi 85 pc.
Bright Land School: Class X: Swarnima Gupta 97.4 pc, Parth Gairola 97.2 pc.
Bright Land School: Class XII: Science-Swarit Kumar Aggarwal 97 pc; Commerce-Dhruv Bhatia 95.25 pc.
Heritage School: Class X: Prakhar Jain 94 pc, Shivi Verma 92.2 pc and Baljeet Singh 89 pc.
Heritage School: Class XII: Science- Paras Arora 96 pc; Commerce-Kuber Singh Bindra 94 pc.
Brooklyn School: Class X: Garima Kandpal 92 pc, Kavita Chaurasia 90.4 pc and Anshul Nautiyal 90 pc.
Brooklyn School: Class XII: Vaibhav Gupta 92 pc and Anshi Gupta 91.25 pc.
Unison World School: Class X: Shevy Mittal scored above 92 pc and Ifraah Mumtaz Beg scored above 91 pc.
Asian School: Class X: Tushar Goyal 95 per cent, Prachi Sharma 94 pc and Himadri Chand.
Asian School: Class XII: Sonil Jain 94 pc, Vibhor Saxena 93 pc and Vitihka Joshi 92 pc.
Cent per cent result for GNFC, Wynberg Allen, St George's School in Mussoorie
Our Correspondent
Mussoorie, May 19
Wynberg Allen School, GNFC and St George's School ISC students were ecstatic when they learnt about their results. All these schools have shown cent per cent results in Class XII this year. The results were trickling in till late night.
In Wynberg Allen School, Shubangi topped in science with 90.5 per cent marks, Vinith Kurien was second with 90 pc and Jasika Chugh was third with 89 pc. In commerce, Akarshan Verma was first with 93 pc, Yash Gupta second with 92 pc and Anchali Singh third with 89 pc.
The results from other schools were not available till the filing of the report.
GNFC Headmistress ND Sahni was extremely glad that her school had shown cent per cent passing result this year. Most schools have fared well this year in Mussoorie.