Throbbing commercial hub but no takers for govt land
Neeraj Bagga
Tribune News Service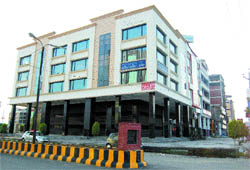 The Passport Office.
Amritsar, June 4
The upscale Ranjit Avenue offers a strange dichotomy. Even as the Punjab government's auction of 3.73 acre commercial land in the posh avenue yielded naught, the clean wide roads with soothing greenery and footpaths without encroachments offer an ideal location for investors looking forward to construct hotels, shopping malls, restaurants, offices and education centres in the posh locality.
The 3.73 prime land was to be developed to raise a multiplex. Various reasons are being cited for the abortive auction, yet no official is ready to come out on record to tick on one of them.
Off the record, senior officials associated with the auction said one of the reasons could be that the business houses were holding back from investing heavily in luxurious recreation activity centers. These mega centers might not be holding much interest with the investors as the city was already full of shopping malls and two multiplexes.
The investors were reading their success rate apart from trying to fathom the potential of the city to house more such mega investment highly luxurious recreation and shopping places, they added.
However, political reasons could not be ruled out of the failed auction. With more and more politicians turning investors and industrialists, they are known to circumvent rules to their advantage.
A look at the past
Earlier, the state government had an ambitious plan to raise the tallest 14-storeyed multiplex and shopping plaza on the same piece of land.
Rocky Farms, said to be managed by the Reliance Group, had bagged the project through a bid in 2008. The company deposited Rs 47.50 crore out of total cost of Rs 190 crore.
However, the company called off the agreement last year citing technical reasons. As per the rules, the government forfeited about Rs 20 crore.
Popularity of Ranjit Avenue among investors
If we consider the auction fiasco as an isolated incident, then Ranjit Avenue comes as a popular place for investors. The upscale area has emerged as a hub of various business, commercial establishments, hotels and offices.
Its popularity can be gauged from the fact that five hotels, including a five star by Holiday Inn, are under construction while four hotels, including a four-star, are already operational. Rendering services to locals and tourists, the splendid architecture of these luxury hotels is a landmark on the skyline of the developing city. Interestingly, all of them are located in close proximity and some even share their boundary walls.
Not just hotels, but offices and outlets of fast growing sectors like education, banking, insurance, fashion, apparel stores, government offices, eating joints, restaurants and government offices could be found in the B block commercial area of the Ranjit Avenue.
According to Chairman, CII, Punjab, Gunbir Singh, land prices have skyrocketed within the last three years and now no land is available for sale.
"Shops and places are available on lease rent only. Owners don't want to sell off properties as they get handsome returns in the shape of rent," he said. "And why not? Lease rent per square foot has gone up from Rs 20 to about Rs 60 in three years."
The adjoining A, C, D and E blocks of Ranjit Avenue are residential while B block is exclusively earmarked for commercial purposes. A leading real estate developer of the area said the value of one square yard land in the residential sectors was about Rs 35,000 while the same area cost Rs 1 lakh in Block B. Notably, government prices are fixed at much lower.
"Once the under-construction hotels become operational, there would be at least six three-star hotels," said APS Chatha, General Secretary, Amritsar Hotel and Restaurant Association.
Besides, restaurant chains like Domino's Pizza, Café Coffee Day, Barista, Oka, Yo China, traditional aloo kulchas are also available in sophisticated environs in Kulcha Land. Unlike shopping markets in the walled city and Civil Lines areas, the area offers ample space for parking and its prime location is another attractive features. The labyrinth of arterial roads in the old city and parking blues in Civil Lines do not provide enough opportunity to investors.
Beauty salons of national and international repute like VLCC, Lakme and Javed Habib have also sprung up in the market. Government offices of Markfed, BSNL, LIC, Passport office, Improvement Trust are also located here. Following permission of the All-India Council for Technical Education (AICTE), the Khalsa College Society has opened its first engineering college over 15.7 acres of prime land in the same area. A number of private coaching centres imparting training for AIEEE, AIIMS and other exams have also set up shop.
Offices of immigration Consultancy services, Tours and Travels, banks, including private and insurance companies are located.