Illegal property worth crores attached in Gzb
Ghaziabad, June 7
The Ghaziabad administration has decided to spread the dragnet on those who have acquired property worth hundreds of crores of rupees through criminal activities. The Tehsil administration has confiscated the properties of former Rajapur block chief Rakesh Yadav, his brother Rukmakesh Yadav and former BSP activist Manish Pandit.



Accident claims 3 lives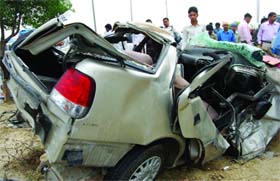 The wrecked remains of a car that met with an accident after its tyre blasted on the Noida-Greater Noida Expressway near Jhatta Badoli village early morning today. Three persons died and two were injured in the mishap. Tribune photo
Students prefer courses to 'good' colleges
New Delhi, June 7
Many students with good knowledge of Delhi University (DU) colleges do not go by the conventional wisdom of opting for the best colleges. These students instead concentrate on good courses even if they are not offered in the well-known colleges of north campus.
Govt hospitals to have diabetes centres soon
New Delhi, June 7
Most of the Delhi government hospitals would soon be providing counselling services to all those who are prone to developing diabetes through their special clinics, designated for the purpose. An announcement regarding that would be made at a press conference on June 15, said sources of the city health department.
African student gets fresh lease of life at AIIMS
New Delhi, June 7
It is a second life for Adoma, an African IT student, who responded well to the treatment given to him at Jai Prakash Apex Trauma Centre (AIIMS) after he met with a serious accident on April 19. He was discharged today and doctors termed his survival as miracle and said his recovery could be a medical case study.
Apeejay founder Stya Paul dead
New Delhi, June 7
Stya Paul, noted industrialist, freedom fighter and founder president of Apeejay Education Society, which runs a chain of schools and other institutes across the country, passed away at his New Delhi residence today morning, a spokesperson said. He was 90.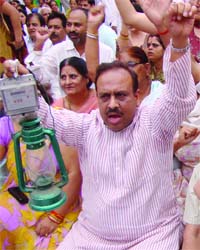 Delhi BJP president Vijender Gupta along with party activists protests against the Delhi government for the rise in water and power prices at Jantar Mantar in New Delhi on Monday. Tribune photo: Manas Ranjan Bhui
Rahman to sing at Games ceremonies
New Delhi, June 7
Oscar winner music maestro, A.R. Rahman, has been roped in as the star performer of the opening and closing ceremonies of the Commonwealth Games to be held in October. The officials of the Games organising committee said Rahman had composed a theme song for the Games, which will be released before the mega sports event.
1 hurt in accidental firing
Noida, June 7
A bullet accidentally fired by a sub-inspector with the Sector 58 police station hit a labourer standing in the vicinity at Labour Chowk on Sunday morning. The critically wounded labourer was rushed to a private hospital by the SI.
People help father, son catch robber
New Delhi, June 7
Local people at Ranjeet Nagar helped two victims of a robbery bid to nab a robber, the Delhi police said today. The incident took place on Saturday night. On the fateful night, Ajay Kumar, a resident of Ranjeet Nagar who runs an artificial jewellery shop in Sadar Bazar, was returning home along with his son Amit in their car.
Man stabbed in fight over filling water
Ghaziabad, June 7
A 60-year-old resident of Sangam Vihar in Loni was allegedly stabbed to death on Saturday by his neighbours following an argument over filling water from a municipal tap. The accused have been arrested.
4 held for robberies
New Delhi, June 7
With the arrest of Shabana, alias, Shanno, a resident of Subash Vihar, and her three accomplices, the Delhi police has claimed to have worked out three robberies that recently took place at the same spot at Khadde wali Masjid here.
Semester system not desirable for DU: Teachers
New Delhi, June 7
Delhi University's (DU) science faculty teachers today wrote to vice-chancellor Deepak Pental asking if he knew of any university in the world with as many students as here where semester system was working successfully.
Circle rate hike put off
New Delhi, June 7
The Delhi cabinet today deferred a decision on increasing the circle rates as it was likely to further increase the property rates. The proposal was prepared a few weeks back and slated to be tabled today before the cabinet. — TNS